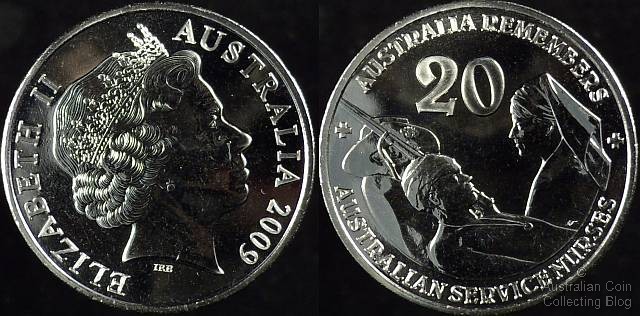 The 2009 Service Nurses 20 cent
This 2009 commemorative 20 cent piece was released by the Royal Australian Mint featuring one of our Service Nurses tending to a wounded digger.
It pays tribute to the tireless efforts of our service nurses (not just women!) throughout all our war efforts from the Boer War right up until now in Afghanistan. Remembering these unsung heroes of war helping our wounded diggers so they can be reunited with their families.
It's not to be issued in any of the sets nor into circulation so it's sure to be a rarer issue -of course depending on the mintage which is yet to be stated by the RAM. Military themed issues do tend to be winners in the public eye but we'll have to wait and see.
This 20 cent is the standard Cupro-Nickel composition 28.52 millimetres in diameter weighing in at 11.31 grams. This is one of those issues never to be found in your change so the only way you'll get one is housed in the special card as issued by the RAM in brilliant uncirculated condition for $6.95 issue price.
Posted by harrisk at March 27, 2009 2:54 PM
Subscribe to our Newsletter