In 2000 there was a joint Numismatic/Philatelic Trade Fair held in Sydney and Canberra
September 15 to 28 coinciding with the Sydney Olympic games. It's name was Olymphilex. The Royal Australian Mint attended both venues with it's portable press striking coins to order for show patrons.
These dollar coins, not issued for general circulation are typical aluminium bronze coins, 25 millimetres in diameter weighing 9 grams. Neither of these coins feature a mintmark as we know it, but have a plain edge with lettering denoting the location of striking ie Sydney or Canberra. This is the only standard type coin to feature this although not a circulation coin, these have been known to turn up in change very rarely. The reverse Olymphilex design was sculpted by Wojciech Pietranik and the obverse of QEII by Ian Rank-Broadley.
These could be purchased from the shows for premium of $2 and now fetch around $15-$20 each.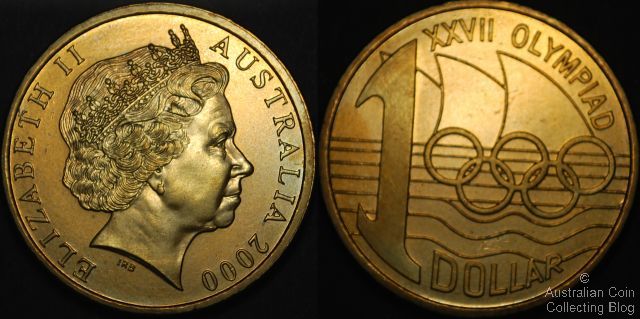 2000 Olymphilex Dollar

Canberra Edge Lettering
Posted by harrisk at April 17, 2009 11:07 AM
Subscribe to our Newsletter