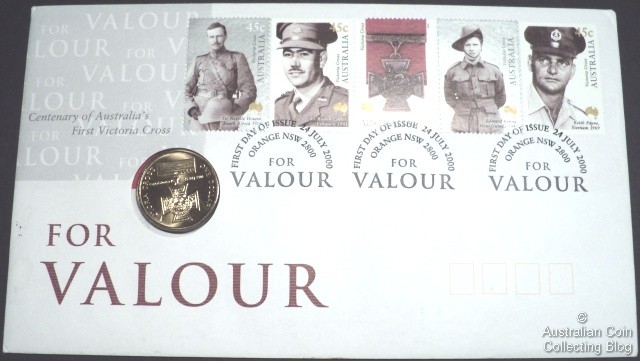 Australia 2000 Victoria Cross Dollar in PNC
In a previous entry about collecting miltary themed coins brief mention was made of the VC dollar. This dollar was released in 2000 to commemorate the 100th anniversary of Australia's first Victoria Cross medal for gallantry being awarded to Captain Neville Howse on July 24 1900. Howse, born in the UK emigrated to Australia in 1889 and enlisted with the New South Wales Corps Medical Staff and travelled to South Africa to fight in the Boer War. There he managed to carry a wounded man back to safety despite having his horse shot out from under him and being continually shot at while carrying the man.
The Victoria Cross itself is an interesting medal. It is awarded for conspicious gallantry in the face of the enemy and came into being under Queen Victoria in 1856 and was awarded solely to British troops. As time went on it was awarded to British Commonwealth troops from Australia, New Zealand, Canada, and various other Commonwealth nations. This remained the case even when these countries became independent from the UK but remained part of the British Commonwealth. Originally struck to award bravery in the Crimean war against the Russians the Victoria Cross medals are reputedly struck from Russian cannons captured during the Siege of Sevastopol during the Crimean War.
Anyway, back to the Australian VC Dollar. Minted from a regular 9 gram, 25mm aluminium bronze planchet, the obverse depicts Ian Rank-Broadley's portrait of an older Queen Elizabeth II. The reverse, designed by Wojciech Pietranik depicts a Victoria Cross medal with the legend "Victoria Cross One Dollar". In small letters on either side of the medal is the caption "Capt. N. Howse 24 July 1900". The Victoria Cross dollar is hardly a scarce coin, with 49,979 being released in a collectors folder, and another 48,830 released in a postal numismatic cover (PNC). You can compare this with the mintage of various portable press mintmark dollars and the counterstamp dollars of 2008, which often have mintages of under 10,000, and sometimes under 5,000. Despite this, the VC dollar has the highest catalogue value of any of the non circulating aluminium bronze dollar (excluding error coins and VIP release folders). The 2009 McDonalds Australian Coin and Banknotes Handbook catalogues them at $285 in the collector folder and $325 in the PNC. These CV's are optimistic at best, usually the foldered coins and the PNC's go for $220- $280.
I can only speculate why it has the value it does. Military themed coins typically do a little better than most. But, if you compare the VC dollar with the 90th Anniversary of the Navy dollar of 2001 with a mintage of 62,429 and it's CV of $55, or the Vietnam Veterans dollar of 2003 with a mintage of 57,000 and a CV of $45 you can see that its' price is well out of proportion with it's mintage. Because I was not collecting coins at the time these were released I am not sure what the market conditions were at the time so why it is catalogued so high is something of a mystery. I do have one theory though.
The only thing I might compare the VC Dollar with is the comparitively overpriced Ashes PNC of 2007. In the first few days after release these PNC's were reputed to be a scarce item with supply problems and this saw the price quickly run up from the issue price of $20 to $120 within a week as collectors frantically tried to get hold of them. Prices spiked at over $150 briefly and when it became obvious that the supply was not as limited as first thought the price steadied and then dropped back a little. Of course by this time there was an established base of collectors and speculators who had purchased the PNC's at over $100 and were not willing to sell their covers at less than that. Hence the price has remained high ever since (but has not appreciated at all). In the time I've been watching the price of VC dollars (the last 3 years or so) the price that they have sold for has hardly changed. Perhaps a similar thing happened with the VC dollar upon its release.
Despite this, they are the 'key' date of the dollar series. Not because of the scarcity, but because of the price. They are not hard to get, there's always one or two on Ebay and almost all dealers who deal with decimal coins will have one available for sale. I dont know if they are a good investment, perhaps if you can get one at a low enough price, but certainly they are an item you'll need if you're completing an Australian dollar collection.
Posted by mnemtsas at April 16, 2009 4:59 PM
Subscribe to our Newsletter