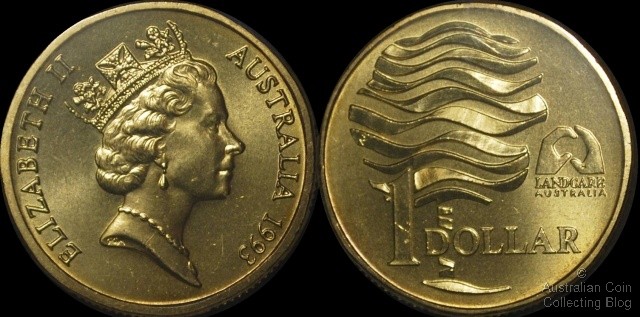 Australia 1993 $1 Landcare
In an effort to promote care of environment and natural resources the Australian government initiated the Landcare program. In 1993 in support of this initiative the Royal Australian Mint released the Landcare dollar. Initially intended as a collector only coin at Christmas time in 1993 a shortage of dollar coins in circulation resulted in the RAM using the Landcare dollar dies (minus a mintmark) minting nearly 20 million of the coins for release into circulation. Some of the coins were released in a special presentation sheet to help fund a 'Clean Rivers' project, this was a team effort between the mint, BBC Hardware, and Landcare Australia.
The Landcare dollar was released into general circulation (18.2 million coins) and onto the collector market with the C (228,664 mintage), S (119,373 mintage), and M (67,185 mintage) mintmark. Like several other dollar coins of this time frame it was struck to proof standard in silver with continuous reeding for the NAA Coin Fair (5,000 mintage) and with normal interrupted reeding (20,000 mintage). As is normal the NAA Coin Fair silver proof has the highest CV ($110), the aluminium bronze strikings have very large mintages for mintmark dollars and the CV of each is $10 or under. Interestingly the more common silver proof had a small number issued with a printing error on the included COA (showing mintage as 24,000 in error). These proofs with the error COA (certificate of authenticity) are scarce with a CV of over $400.
Seen above the obverse of the coin depicts the Raphael Maklouf portrait of Queen Elizabeth. The reverse of the coin was designed by Vladimir Gottwald. It depicts a tree on the left formed from undulating bands (to signify water I imagine) and on the right the Landcare Australia logo of clasping hands forming a map of Australia.
Posted by mnemtsas at June 14, 2009 9:21 AM
Subscribe to our Newsletter