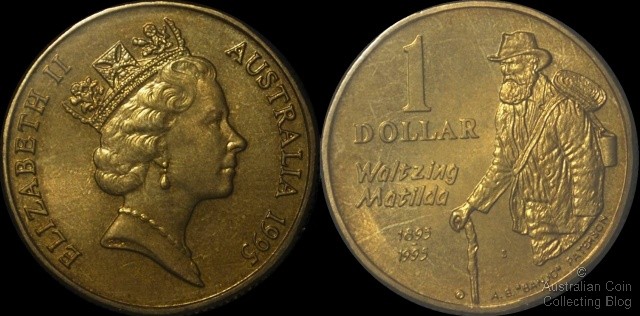 Australia 1995 $1 Waltzing Matilda Centenary Dollar
The song, Waltzing Matilda is best known as the unofficial anthem of Australia (our official anthem is Advance Australia Fair). A bush ballad orginaly penned by famous Australian poet Banjo Patterson tells the story of an intinerant drifter known in Australia as a swagman. Carrying his worldly possessions and bed (his 'swag') on his back he steals a sheep to eat and rests under a tree for a cup of tea and to eat the stolen sheep. Policemen and the sheep's owner arrive to arrest him but rather than accept capture the swagman throws himself in a nearby water hole (a billabong) and drowns, he then goes on to haunt the location. To celebrate the centenary of Waltzing Matilda the Royal Australian Mint released the 'Waltzing Matilda' aluminium bronze dollar in 1995 onto the collector coin market. While written as a poem in 1887 the song was put to music for the first time in 1895 (hence the centenary) by Christina Macpherson. You can see her original manuscript of the poem put to music here.
While not released into general circulation the Waltzing Matilda dollar was struck in Aluminium Bronze with the C (171,709 mintage), S (55,391 mintage), B (74,353 mintage), and M (76,407 mintage) mintmarks. The coin was also struck in silver in proof standard, with continuous reeding for the 1995 NAA Coin Fair (2,501 mintage) and normal interrupted reeding (20,005 mintage) for the broader collector market. As you'd expect the NAA Coin Fair silver proof has the highest CV (160) of the Waltzing Matilda dollars, the aluminium bronze strikings have slightly higher CV's than most collector dollar coins yet are pretty common and easily found.
Seen above the obverse of the coin depicts the Raphael Maklouf portrait of Queen Elizabeth. The reverse of the coin by Vladimir Gottwald. It depicts a stylized image of the swagman from the song Waltzing Matilda, replete with a swag and walking stick and dressed roughly as one would expect from a largely homeless 19th century drifter.
Posted by mnemtsas at June 14, 2009 8:55 AM
Subscribe to our Newsletter