To help you catch up on the continuing story, have a quick read about the pre-release details of the Master Mintmark Dollar. No one was certain what this release was going to be.
Last weekend it all happened. Friday morning the Royal Australian Mint anticipated a crowd of visitors and hired extra security for the event prior to the doors opening at 9am. There had been speculation there would be campers to gain their spot in the queue early on Friday morning. Sadly this wasn't the case and this story unfolds thanks to fellow numismatist, the first RAM attendee to this event Goldseeker. The crowd of few were let loose at 9am who paid their $12 at the till per coin and proceeded to the queue to mint their coin. Obviously due to the short notice to collectors and other numismatic activities last weekend the crowd for the entire event was minimal. Apparently the queue to mint coins was never longer than 10! The counterstamped Master Mintmark coin was available to (press the button yourself) mint for 4 days only at the RAM.
The Counterstamp Mintmark of mention in this post is a confusion in itself. The coin available to press by RAM attendees was a 2009 Mob of Roos one dollar with a special Kangaroo mintmark that consists of a C with a kangaroo hopping through it. That's not the real special bit though. The extra special addition was that of a C counterstamp below the D of dollar on the reverse of the coin (seen on bottom image). These coins with the counterstamp are proving to be a scarce release with dealer sales already looking at the $30-$50 mark, mintage was a tiny 6,500 coins.
The master mintmark coin is non-counterstamped version of this. It's a 2009 mob of roos one dollar with a C and a kangaroo hopping through it. This coin is readily available with a mintage of 23,758.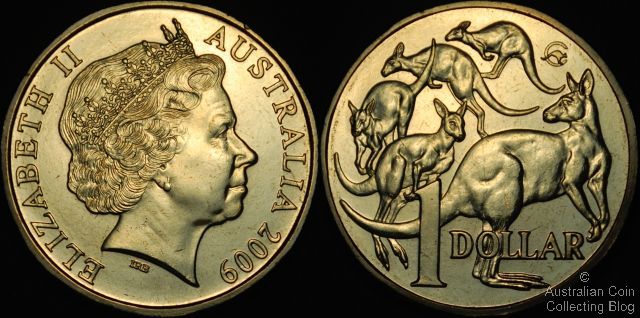 The Master Mintmark Dollar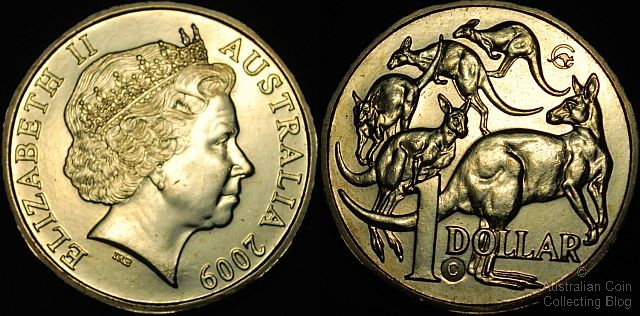 The Master Mintmark 1 Dollar with C Counterstamp
Posted by harrisk at July 10, 2009 4:19 PM
Subscribe to our Newsletter