In 2006 the Royal Australian Mint released the first of a new series bringing colourful designs to the standard one dollar circulating coin size. This pad printing method of colourising the coin surface was used briefly on the 2001 Centenary of Federation Proof one dollar and on other denominations and also other NCLT coinage. The first releases of this Ocean Series were the Bottlenose dolphin and the Clown fish. This fun and vibrant dollar series presents appeal to younger collectors and incorporates facinating marine life facts.
2006 Uncirculated Clown Fish
This Eastern Clown Anemonefish reminds us of the fish made famous in the movie "Finding Nemo". Two bright orange fish with white stripes swimming in the tentacles of sea anemone. These fish inhabit the entire waters of the Great Barrier Reef. Little known fact about the Clown fish is that the dominant male in a group can change sex when the dominant female dies!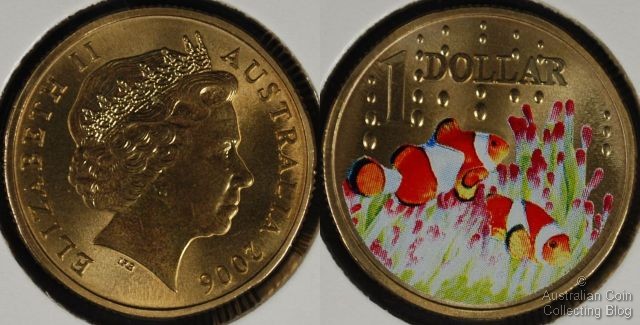 2006 Clown Fish One Dollar
2006 Uncirculated Bottlenose Dolphn
This coin depicts 2 Bottlenose Dolphins springing from the warm waters of the Pacific Ocean in front of a perfect blue sky. These ocean mammals travel in pods and can eat up to 15kg of fish, shrimp and squid every day. Dolphins are intelligent creatures using sound waves to gather information about their environment. Mintage 29,949.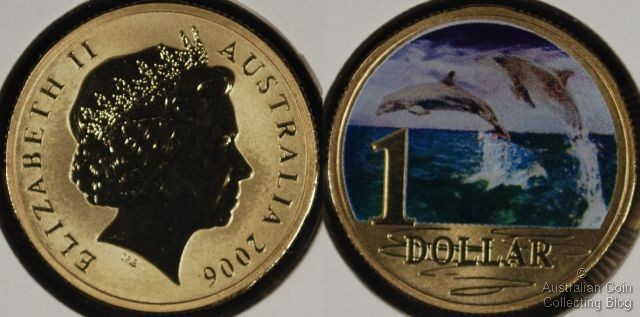 2006 Bottlenose Dolphin One Dollar
2007 Uncirculated Longfin Bannerfish
This tropical white fish with 2 black bands and yellow dorsal and tail fin is seen diving through a rich red coral reef. These fish act as cleaners removing parasites from other fish. Adult Longfin bannerfish can grow up to 25cm long and have trailing dorsal filaments that trail like a banner. Mintage 22,551.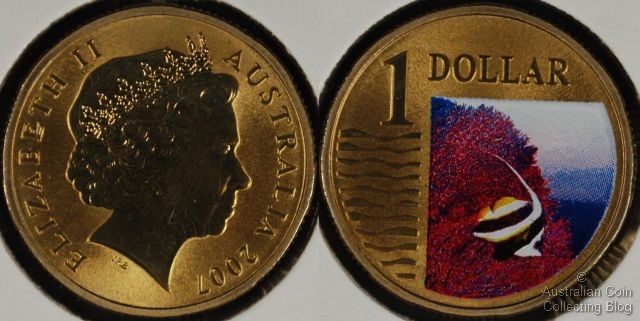 2007 Longfin Bannerfish One Dollar
2007 Uncirculated Biscuit Starfish
This bright vermillion coloured starfish with white lines inhabits rocky reefs and sheltered bays in coastal waters around Australia. It is an Australian native feeding on sea squits, sponges coral and algae. It is depicted on the one dollar attached to coral. Surrounding the "1" is a Biscuit Star smorgasboard. They have no heart or brain but have an eye on the end of each arm detecting light or dark. Mintage 22,555.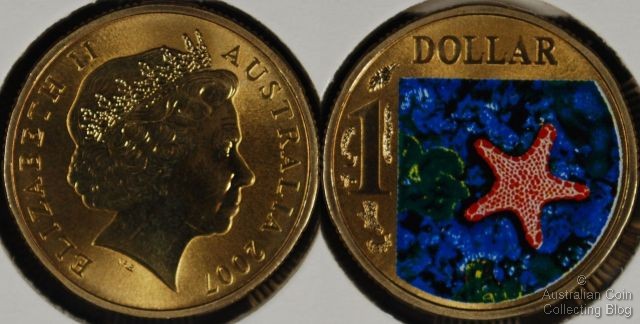 2007 Biscuit Starfish One Dollar
2007 Uncirculated Bigbelly Seahorse
This oddly shaped sea creature is depicted inhabiting shallow water sea grasses. It is a unique species in that the male becomes pregnant, carries eggs and gives birth to young. The seahorse can be found in shades of yellow, brown, orange, white or grey, adapting it's colour to the environment. They have a prehensile tail which allows them to hold onto objects. They can be found in the waters off south-eastern Australia. Mintage 24,666.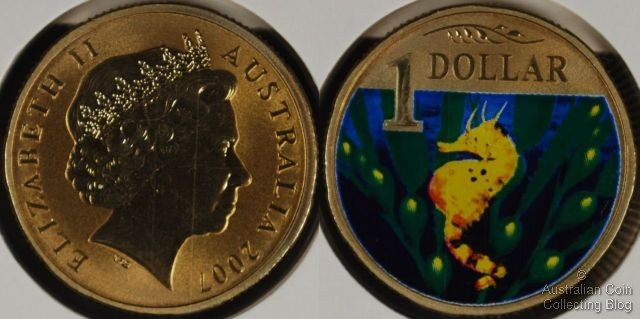 2007 Bigbelly Seahorse One Dollar
2007 Uncirculated White Shark
The Great White Shark leaps to life on this dollar coin swimming towards you (it's next meal), the sun's rays piercing the water's edge. This shark is the most feared sea creature on earth. The Great White Shark in fact features a grey or bronze back with a white belly. These sea creatures can weigh up to 3,000kg. Mintage 30,416.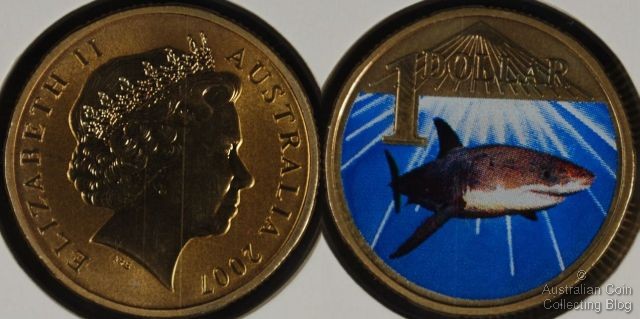 2007 White Shark One Dollar
The coloured designs are pad printed onto a flat unstruck surface on the coin and only some of the features are struck. The obverse is struck and the "1 Dollar" on the reverse with the background feature ie. Air bubbles on Clown Fish coin and water swirls on Bottlenose Dolphin is also struck. Have a read of our previos post about damage to pad printed coins and passing these off as error coins.
All of these coloured Ocean Series one dollar coins are the standard 25mm circulation type -but issued for the collector market and not intended for circualtion. They are aluminium bronze and weigh 9g. These coins are magnificenly depicted by RAM coin designer Tony Dean. All these coins were issued in a soft plastic capsule in an informative cardboard card for $14.95.
Posted by harrisk at October 21, 2009 3:24 PM
Subscribe to our Newsletter