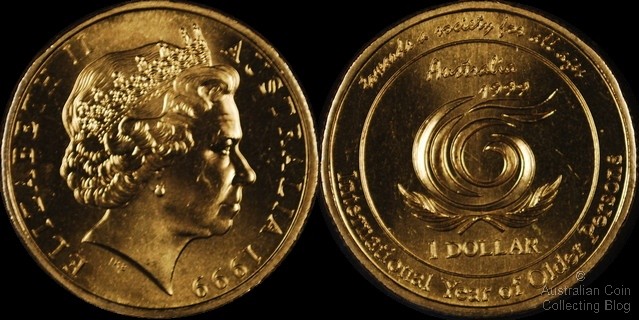 1999 International Year of Older Persons One Dollar
Each year the United Nations General Assembly designates a theme to help draw attention to important issues worldwide. It was declared that 1999 would be the International Year for Older Persons. It is expected that by the year 2020 the aged population of the world will pass the 1 billion people mark.
By proclaiming this the year of older persons the UN hoped to increase awareness of our maturing population and help all generations work together and build stonger relationships through understanding. Working together we can learn, repect and grow society for all ages.
"Towards a society for all ages International Year of Older Persons Australia 1999 1 Dollar" is depicted in the legend on this one dollar issue. With 29, 208,000 released into circulation this standard size one dollar coin measures 25mm in diameter and weighs 9 grams and is struck in aluminium bronze. The image on the reverse is the United Nations symbol for the IYOP 1999 and was designed by Wojciech Pietranik. It consists of (flower-like) rotating concentric lines expressing vitality, diversity and interdependence, as well as movement and progression. This one dollar coin was also issued in a two coin unc set (mintage 33,922) with the other commemorative for 1999, the Anzac $1. In joint association with Australia Post 56,065 were also issued on Feb 1st 1999 in a PNC release.
Mint and proof year sets, baby mint and proof sets for 1999 all feature the IYOP dollar which has the obverse effigy of her majesty Queen Elizabeth II by Ian Rank-Broadley. All coins in these sets feature the same obverse by Broadley first used in 1999.
For an overview of 1999 $1 issues by the Royal Australian Mint see our 1999-2000 one dollar issues and mintage table.
Posted by harrisk at December 11, 2009 9:40 AM
Subscribe to our Newsletter