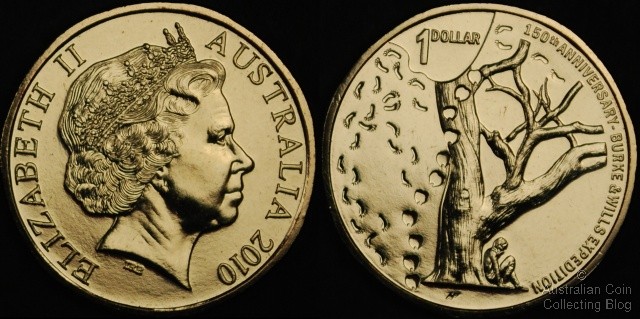 2010 Burke and Wills One Dollar
The RAM is taking the opportunity in 2010 to reflect on the expedition of Australian explorers Robert O'Hara Burke and William John Wills 150 years ago. In 1860 the South Australian government offered a prize to whoever could traverse the continent from south to north first. Burke and Wills set out on a fateful journey to explore inland Australia from Melbourne to the Gulf of Carpentaria in Queensland in August 1860. Along with 17 other men, 23 horses, 26 camels, 20 tonnes of supplies, 6 wagons and 80 pairs of shoes the party left Royal Park in Melbourne.

The trek proved to be a slow journey. Wagons broke down, they dumped sugar, belongings, rum, guns and other supplies that were weighing them down. Some men were left behind, some got sick and died. A group of four with one horse and three camels reached the Gulf of Carpentaria but failed to see the ocean because of mud and thick mangroves. On the return journey supplies were so short they killed and ate a camel and later Burke's horse. One of the party died. By 1861 the party were very sick and on July 1st Burke died of starvation. Wills died a few days later. King was the only survivor completing the trek by joining a group of Aboriginals and later being found by other explorers and returned home. They returned Burke and Wills' bodies to Melbourne for a public funeral. King was given a pension but his life was short lived due to ill health from the ordeal.
To mark the sesquicentenary in 2010 the Royal Australian Mint in partnership with the Royal Society of Victoria has released a commemorative one dollar coin to remember the journeys of our early explorers Burke and Wills. These have been released in a 2 coin set with a comemmorative 20c in proof and uncirculated finish. The dollar coin was designed by RAM designer Wojciech Pietranik and depicts explorer King, the weary sole survivor resting under the "Dig Tree" at Coopers Creek in southwest Queensland. It also shows camel tracks depicting their route south to north and footprints symbolic of the assistance given by the Aboriginals to King prior to his return. Without this help he would have surely died also. This dollar will not be released into circulation, these 2 releases being the only way to obtain this standard 25mm size, 9 gram, aluminium bronze one dollar coin. The obverse depicts the standard Ian Rank-Broadley effigy of Queen Elizabeth II. The coins are issued in an informative folded card (in a plastic cover) with an insert containing an excerpt from Wills' diary. Mintage will be capped at 40,000 for the unc set and just 25,000 for the proof set. Issue price is $15 for the uncirculated 2 coin set and $45 for the proof version. Final mintages can be found in the 2010 mintage table.
Posted by harrisk at December 9, 2009 9:41 AM
Subscribe to our Newsletter