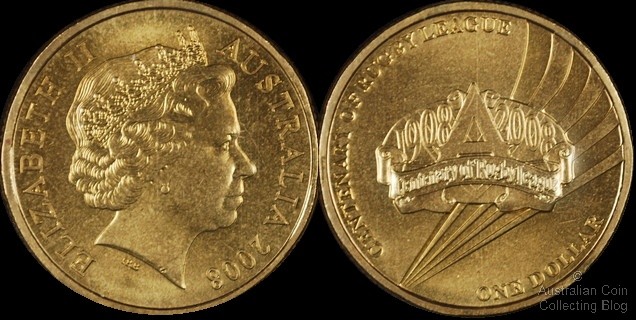 Unc 2008 Centenary of Rugby League One Dollar
Rugby Union champion of the time Dally Messenger signed to Rugby League in 1907 to play in the All Golds match in 1908. This was the catalyst for the beginning of this new code of football. The NSW Rugby Football League was founded displacing Rugby Union as the primary code of football.

Today there are over 400 players in the 16 clubs of the NRL (National Rugby League). Each year a premiership battle takes place over 30 weeks to determine the winning team, the other major competition in Australia is the State of Origin Series NSW vs QLD. Every couple of years or so a World Cup competition is held, these tournaments began in France in 1954. Australia has been the most successful World Cup winning team succeeding 9 times.
Rugby League is the dominant football code played in New South Wales and Queensland and is played professionally in over 50 countries worldwide.
This one dollar coin, released in 2008 by The Royal Australian Mint celebrates 100 years of Rugby League. The reverse designed by Vladimir Gottwald depicts the Cenetenary of Rugby League logo. The letter A as worn on the jerseys of players in the first decade of the code surrounded by 1908 2008 and the words Centenary of Rugby League in a ribbon banner. The obverse is the standard Ian Rank-Broadley effigy of Queen Elizabeth II.
This uncirculated dollar is encapsulated in an informative card and was issued for collectors and not intended to circulate. It is, however, the standard aluminium bronze 25mm size weighing 9g with edge interrupted reeding. Issue price was $12.95 with a mintage of 35,282 coins. This coin was also released in a prestige stamp booklet , a joint Australia Post release with a mintage of 26,109.
Posted by harrisk at December 30, 2009 8:54 AM
Subscribe to our Newsletter