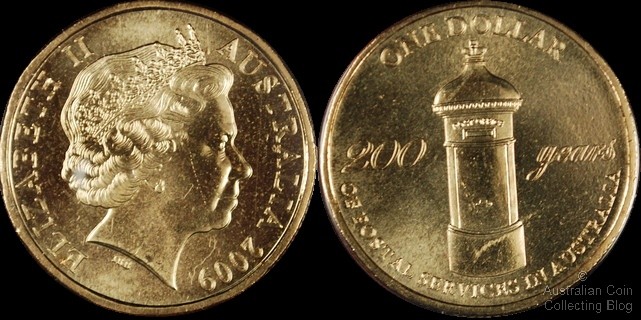 Unc 2009 Bicentenary of Australia Post One Dollar
2009 celebrated 200 years of the Australian postal service delivering letters and parcels to their destinations Australia wide. Australia's first post master Isaac Nichols took charge of packages arriving by ship at Sydney wharves working from his home in Sydney to deliver the mail. It wasn't until the postal act of 1825 that the NSW Governor fixed postage prices appointing post masters outside Sydney allowing for a more organised postal service. Now, there are more than 16,000 post boxes on streets throughout Australia.
This 2009 uncirculated one dollar coin was only issued in a PNC by Australia Post and a two coin set by the Royal Australian Mint. The two coin set also features a proof $5 coin depicting Isaac Nichols' residence.
This $1 features the design of an early cast iron post box which have typically stood on town and city streets since 1856. The reverse states "One Dollar 200 years of postal services in Australia". It is a standard aluminium bronze coin 25mm in size weighing 9g with edge interrupted reeding. Issue price for the PNC was $14.95 and $119.95 in the two coin set in a display box. The obverse is the standard Ian Rank-Broadley effigy of Queen Elizabeth II.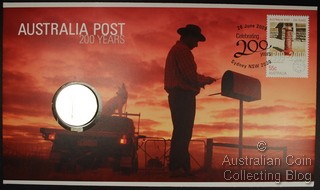 2009 Bicentenary of Australia Post PNC
Note: There is another issue by The Perth Mint of a PNC including a non-standard coloured legal tender one dollar coin.
Posted by harrisk at December 28, 2009 10:25 AM
Subscribe to our Newsletter