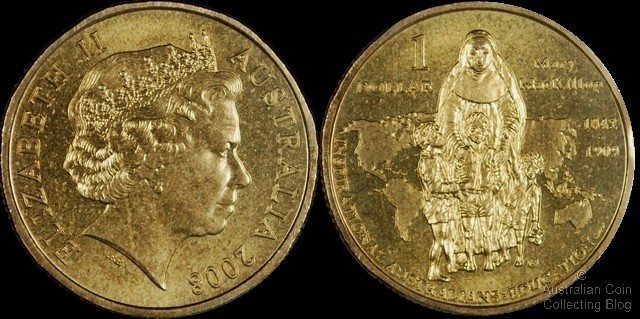 Unc 2008 Mary MacKillop One Dollar Inspirational Australians Series
In 2008 the Royal Australian Mint introduced a new series of collector one dollar coins dedicated to Inspirational Australians. This first coin issued recognises Mary MacKillop and her work in founding schools and educating Australian children whilst enduring poverty and hardships. A catholic Nun, Mary was born in 1842 and died in 1909. She is currently referred to as Blessed Mary MacKillop after being beatified by the Pope in 1995 for the miraculous cure of a dying woman. Just recently (December 2009) The Vatican has recognised a second miracle by Mary MacKillop who is expected to be given a sainthood in 2010.

This one dollar coin depicts Mary and 3 of her young students in front of a map of the world designed by RAM designer Vladimir Gottwald. The obverse is the standard Ian Rank Broadley effigy of Queen Elizabeth II. This uncirculated dollar is encapsulated in an informative card and was issued for collectors and not intended to circulate. It is however the standard aluminium bronze 25mm size weighing 9g with edge interrupted reeding. Issue price was $12.95 with a mintage of 29,802 coins.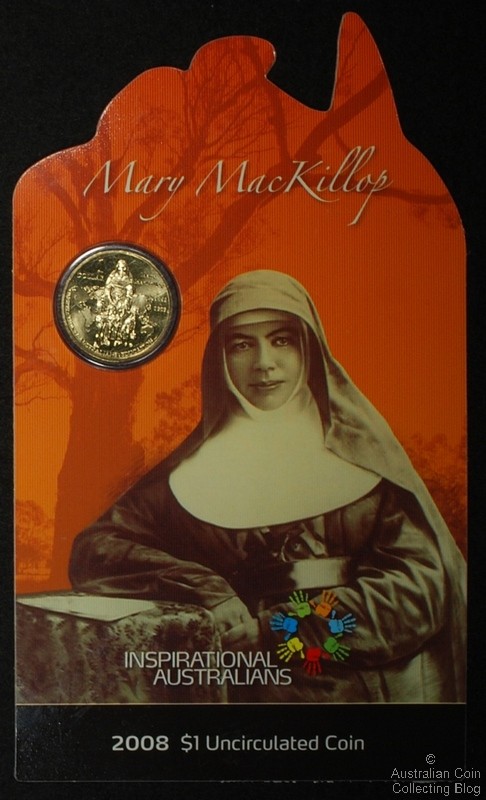 2008 Uncirculated Mary MacKillop $1 in card of Issue
Posted by harrisk at December 28, 2009 6:48 AM
Subscribe to our Newsletter