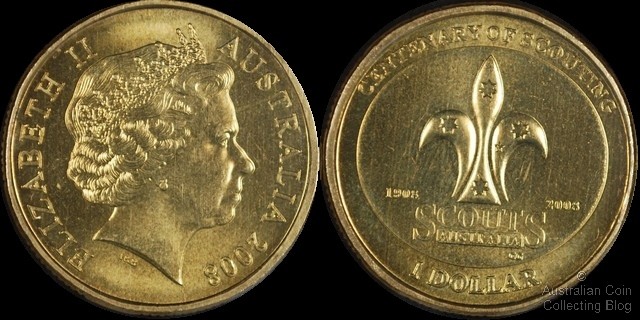 Unc 2008 Centenary of Scouting One Dollar
February 2008 saw the launch of a new coin design entering circulation, the Centenary of Scouting $1. This coin marks 100 years of the Scouting movement. The Scouts form a sound basis for our youth in learning physical, mental and spiritual development as they grow into successful adults in our community. There are 28 million scouts in 160 countries wordwide participating in activites, having fun and learning to "be prepared", the Scouting motto.
This one dollar depicts the Australian spirit flame, the Australian Scout symbol sculpted by Caitlin Goodall. This symbol resembles the international Scouting symbol, the fleur-de-lis incorporating the southern cross. The reverse states "Centenary of Scouting 1908 2008 Scouts Australia 1 Dollar". The obverse depicts the standard Ian Rank-Broadley effigy of Queen Elizabeth II. This standard 25mm size, 9 gram aluminium bronze one dollar entered circulation in April 2008 along with a standard mob of roos 2008 issue later in the year. The Royal Australian Mint also released these dollars in exclusively wrapped Mint Roll paper for $29.95 per roll of 20 coins.
Posted by harrisk at December 28, 2009 8:48 AM
Subscribe to our Newsletter