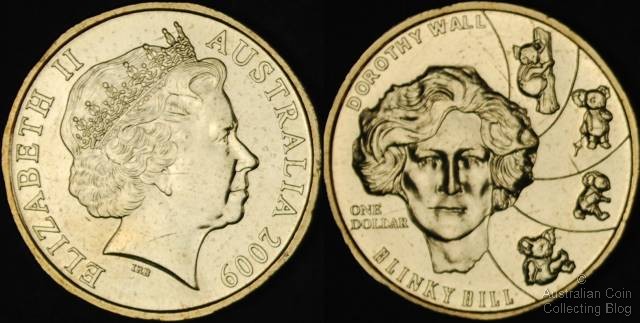 Australian 2009 Dorothy Wall One Dollar Unc
Author and illustrator Dorothy Wall was born in 1894 and died in 1942. Born in New Zealand and migrating to Australia in 1914 she was most well known as the author of the popular childrens' classic stories of which Blinky Bill was the significant character. Blinky Bill is arguably one of Australia's most famous Koala's representing a uniquely Australian larrikin spirit in Dorothy Walls' stories and illustrations. Blinky Bill stories have been enjoyed by children since the 1930's and Wall's books continue to be reprinted to this day. Wall wrote and illustrated 3 Blinky Bill stories and a third was released as The Complete Adventures comprising of all 3 books.
The theme for the baby mint and proof sets produced by the Royal Australian Mint in 2009, 2010 and 2011 was Blinky Bill by Dorothy Wall. A fitting theme for a set designed as a gift to commemorate a special newborns birth. The packaging features illustrations of Blinky Bill by Dorothy Wall. The special Dorothy Wall one dollar is only featured in the baby mint set, not the proof set.
The reverse depicts a likeness of Dorothy Wall with 4 small Blinky Bill's in differing poses to the right of the portrait. The legends read "Dorothy Wall Blinky Bill One Dollar" on the reverse. This design was by Wojciech Pietranik but does not bear his initials.
It is a standard size 25mm 9 gram Australian legal tender aluminium bronze one dollar coin but was not released into circulation (thus an NCLT), it is only found in the baby mint (uncirculated) set. The obverse is the standard Ian Rank-Broadley effigy of Queen Elizabeth II.
Posted by harrisk at March 19, 2010 4:40 PM
Subscribe to our Newsletter