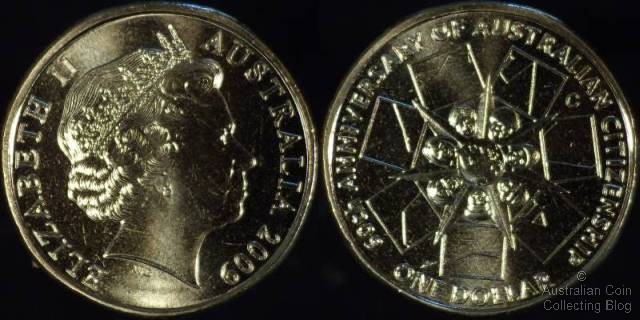 Australian 2009 Citizenship Dollar 'C' Mintmark
2009 marked the 60th Anniversary since the enactment of the Australian Citizenship Act of 1948. This parliamentary act came into effect on the 26th January 1949. Prior to this date all people living in Australia were considered British subjects so the enactment of this legislation meant that we now could truly call ourselves Australian. Hence the foundation of our national holiday, Australia Day on the 26th January each year. In February 1949 seven men (each representing an Australian state) from Czechoslovakia, Denmark, France, Greece, Norway, Spain and Yugoslavia became Australian citizens in the first-ever Australian citizenship ceremony held in Canberra, the nations capital.
The mintmark coin released by the Royal Australian Mint in 2009 was a one dollar issued to commemorate this event. The reverse designed by Wojciech Pietranik featured the heads of the 7 new Australian citizens surrounding a globe of the world which represented their diverse international origins. Their heads are shown resting in the grooves of the federation star, the star symbolically depicts their raised hands and their new Australian pride is shown on their faces. This central design is surrounded by an Australian map cut into squares for each state. The legend reads "60th Anniversary of Australian Citizenship One Dollar". The reverse also showed Pietranik's initals above the N of ONE (dollar).
The obverse was the standard Ian Rank-Broadley effigy of her majesty Queen Elizabeth II seen on almost all standard circulating currency since 1999. This dollar coin issue was the standard 25mm, 9 gram aluminium bronze dollar you would ordinarily find in your change but this design was not released into circulation.
The coin was released with a number of mintmarks and privy marks and these can be seen in the reverse fields at approx. 2 o'clock. The citizenship dollar had a C mintmark, or S, B, or M privymarks. There were no counterstamp issues in 2009. Are you lost? Have a look at the definitions in our "Mintmarks, Privymarks and Counterstamps. What is the difference?" post. The C mintmark coin was also struck on the gallery presses at the RAM from the 1st January 2009. There were also 2 issues, the Cmm and the B privymark overprinted for the Brisbane Coin Fairs. A silver proof version of the citizenship dollar was issued with a C mintmark.
Mintages of all of the 2009 Citizenship dollar issues can be found on the 2009 Issues and Mintages table.
Posted by harrisk at March 19, 2010 5:19 PM
Subscribe to our Newsletter