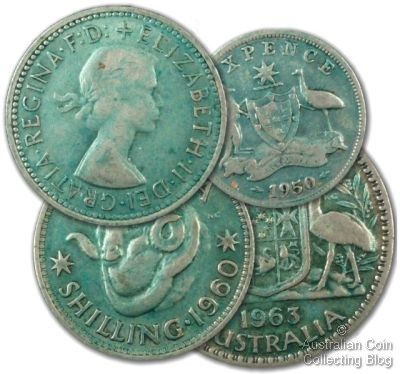 PVC Residue on Coins
Have you seen coins like this for sale, in dealers stock books at shows, in public auction lots, eBay items or even coins in your own collection? These coins are the extreme but if your coins are stored in pvc then this is what will happen. Not might happen, will happen! These coins are affected with pvc residue from storage in pvc album pages or pvc plastic bags. Underneath the green slime the coins are pitted and eroded by the chemicals in the pvc residue. These coins have been permanently damaged.
Maybe you have coins that aren't this bad. PVC residue can first start to show as a cloudy or milky haze over the coin surface, a greyish film, maybe a slight green tinge in the right light. The coins might even feel slimy to touch such as those from early decimal mint sets that have been stored in their original pvc packaging.
PVC is the abbreviation for poly vinyl chloride, a material used almost everywhere in your home. It's a hard plastic and to make it useable into soft plastic album pages, plasticisers are added. These plasticisers contain a whole aray of harsh chemicals and the pvc itself contains 30% cholorine, a bleaching and corrosive agent.
When these chemicals come into contact with your coins the acidity cycle starts. PVC isn't heat tolerant and will start to break down even before it leaves the factories. These chemicals will leach out of the plastic, even through your mylar 2x2 and onto the coin surface.
You can usually identify PVC by the ghastly odour it emits, like a cheap plastic childs toy. That's the chemicals leaching already.
PVC residue can be removed with some careful attention and acetone, but the damage has been done. Third party grading services won't slab your coin if it exhibits pvc residue or damage and if you've cleaned it then it won't get a grade either. Your once valuable coin......just lost a lot of it's value.
An article here by Scott Travers is also well worth a read.
The problems with PVC have been known for many years now.

Letters to the Editor.
Sir, - I have a plastic coin album containing plastic coin and note sheets and some of the coins in the album are getting a green tinge.
Most of the coins showing the green colour are silver coins, 2/- pieces and the 1966 fifty cent pieces, also a few 1/- pieces and even some pennies......Some of the coins in the album have been cleaned, but certainly not all that are getting the green tinge.
Could any of your readers advise the cause of this discolouration and how it is prevented. - Yours etc. I.C. Gilbert Jerilderie, NSW
The Australian Coin Review December 1971.
The coin below is a magnificent double struck 1952 shilling. It has one major problem though. It has been stored in PVC. I purchased this coin because such a coin is a rarity and very valuable. It was delivered covered in a green film (not as bad as those pictured above). After an acetone bath the damage was clear. See the surfaces of the coin aren't smooth? The surfaces of the coin have been eaten by the PVC chemicals causing permanent damage. This coin wouldn't get slabbed by PCGS, it has been permanently damaged by the storage method that was supposed to keep it safe and preserved. It has in fact been ruined and lost probably half of it's value as such.
Safer alternatives to PVC flips or PVC album pages are those made from proven safe plastics such as polypropylene, polyethylene or polyethylene terephalate. I know that's a jumble of long words but your coins are valuable and storage is of the utmost importance. Before buying any coin accessories why not ask your seller, "What are these accessories made from?" If they don't know, walk away. Do your research and make informed decisions. An honest seller should be forthcoming with information, and if they aren't or can't be specific then move on to someone who can.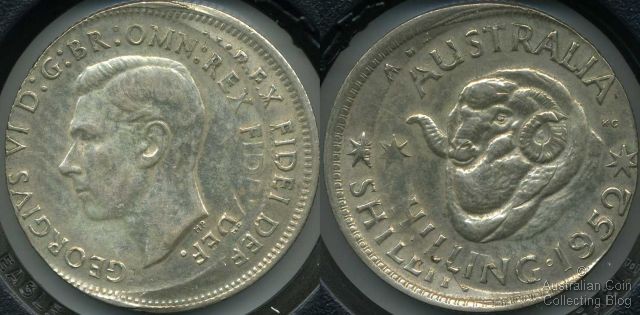 Permanent PVC Damage
Posted by harrisk at April 2, 2010 10:30 AM
Subscribe to our Newsletter