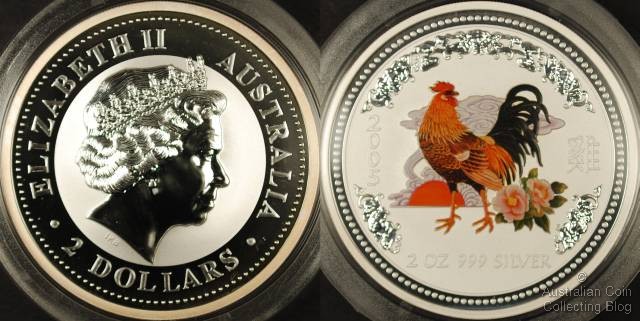 Perth Mint NCLT Issue - 2005 Year of the Rooster 2oz. Silver $2 Coin
This article is continued from Part 1, and Part 2.
7. There's Always Something Happening in the NCLT Market
If you collect pre-decimal coins the amount of news of new releases and discoveries each day is, well, pretty much always.....nothing. Sometimes The Australian Coin and Banknote Magazine might have an article covering some new variety discovery or perhaps a new method of identifying a proof coin by die markers. Hardly exciting stuff and likely only to interest the hard core collector. Consider this blog for example, honestly a lot of the information in here about pre-decimal coins is simply gathered and summarised from other sources. With new releases of NCLT product, new errors and varities being discovered in this new product, and surges in the prices of the secondary market for NCLT there always seems to be something going on. This can be a constant source of interest to the collector as he or she monitors eBay, participates in online coin forums, or scours the latest glossy brochures for the latest releases of interest.
8. NCLT Provides International Exposure to the Australian Coin Market
While the copper nickel square pennies and half pennies of the early 1900's sell for $100,000 dollars or more they barely rate a mention among international coin collectors except for perhaps the most advanced individuals. The 1930 proof penny may well be the one of the most valuable bronze coins in the world but to the average collector of United States coins it remains a complete unknown. However, if you ask that same collector what a silver Kookaburra is there's a better than even chance that he or she will know exactly what it is. The same can probably be said of the Silver Kangaroo released by the RAM. The very popular Kangaroo at Sunset $20 coin is quite well known overseas as are many of the attractive colourized Perth Mint coins. In fact, these same coins are commonly slabbed by US collectors and can easily be found in NGC holder on the United States eBay. It's no surprise, therefore, that when the RAM attends international coin shows that their specially labelled mint sets, proof sets, and fine silver proof sets sell out quickly. Australian NCLT is extremely well designed, manufactured exceptionally well, and packaged in a fashion not often seen overseas, couple this with the uniquely Australian themes often seen on our coins and you can see why our NCLT has a high profile internationally. If you don't believe me take a look at what the US Mint sells as a proof set and compare it with the RAM product. There is simply no comparison.
Conclusions
If you're a collector of NCLT and a hard nosed 'experienced' collector tells you that the RAM product is overpriced rubbish and the Perth Mint colourized coins aren't even real coins just consider this. NCLT is probably responsible for delivering more coin collectors to the hobby than anything else, it provides a relatively low cost means of entering the hobby and allows you to set yourself attainable and inexpensive collecting goals. You can do this while learning valuable lessons about the market value of coins, buying and selling of coins, the importance of coin grading and condition, and all this while allowing you to focus and refine your collecting interests. There are continual new releases onto the market maintaining interest across the whole hobby and this market interest is responsible for delivering reliable profits to coin dealers. The same coin dealers that the hard nosed 'experienced' collector relies on to stock slow moving pre-decimal coins and varieties that he or she is interested in. Put what that 'experienced' collector says out of your mind when you peruse the glossy catalogue of new NCLT releases, you are the future of the hobby, the future mentor to new collectors, the future contributor of articles to magazines, and perhaps the future coin dealer. It's your hobby, your collection, don't let anyone else tell you what you should or shouldn't be doing!
Posted by mnemtsas at June 13, 2010 6:47 PM
Subscribe to our Newsletter