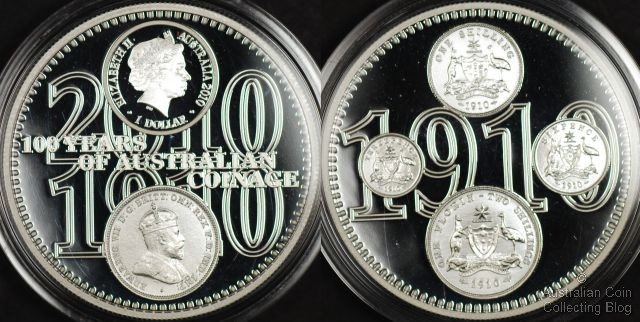 2010 100 Years of Australian Coinage Made to Order Coin
Each year the Royal Australian Mint releases a coin with a mintage decided completely by consumer demand. The coin must be ordered beforehand and only those coins ordered will be minted. This was previously known as the "Subscription coin" for the year but this year was remamed to the "Made to Order Coin". This name change was to reduce customer confusion over the details of the coins' production. Customers needed to order and pay for the coin upfront before it was struck in the numbers only for those who pre-ordered.
This years Made to Order coin celebrates the Centenary of Australian coinage with a total mintage of 4,975 coins. It is a 99.9% fine silver 40mm proof coin with an Australian legal tender value of one dollar. Issue price was $75.
The design was developed in collaboration with the Queensland branch of the Australian Numismatic Society and Royal Australian Mint designer Wojciech Pietranik. It features replications of the first four coin designs, the threepence, sixpence, shilling and florin first minted in 1910.
The obverse features both the current effigy of Queen Elizabeth II by Ian Rank-Broadley and the original effigy of Edward VII by George W de Saules. The reverse of the Made to Order coin features the Australian Coat of Arms by W H J Blakemore shown on all the first Commonwealth silver coins from 1910.
This coin celebrates those designs originally depicted on our commonwealth coinage different to the other $1 coin released by the RAM this year depicting all four monarchs in profile that have appeared on our coins.
Posted by harrisk at August 18, 2010 6:56 PM
Subscribe to our Newsletter