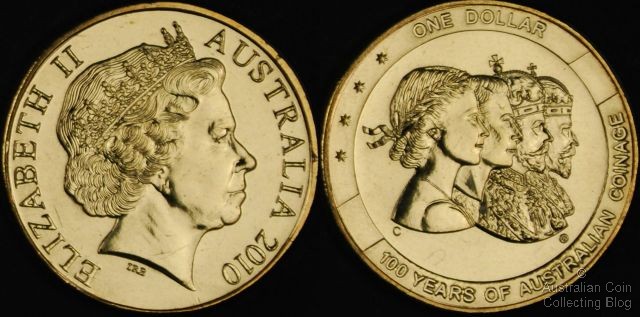 Australia 2010 100 Years of Australian Coinage Dollar
The authors of this blog were lucky enough to be amongst the first 100 or so people in the world to own the new 2010 Australian dollar coin celebrating 100 years of Australian coinage. If you're not sure what this anniversary means then you should take a look at our blog entry on the 100th anniversary of silver coinage in Australia. It would be cheeky of us to suggest that the Royal Australian Mint followed our lead by issuing a coin with this subject matter, and of course they didn't. But it was obvious given the importance of the event that the RAM would release a coin to celebrate it.
The coin above was minted on the gallery presses at the RAM in Canberra and shows the C mintmark on the reverse. This standard sized 25mm, 9 gram $1 coin is a non circulating collector (NCLT) issue that is available in informative card (which for this coin doesn't seem to be designed to be folded). The obverse is the standard QE2 portrait as sculpted by Ian Rank-Broadley. The extremely attractive reverse is sculpted by RAM designer, Vladimir Gottwald. It depicts the 4 right facing portraits of the four English monarchs that have appeared on Australian Pre-Decimal coinage. From left to right you can see Queen Elizabeth II, George VI, George V, and Edward VII. The legend of the reverse reads "One Dollar" and "100 Years of Australian Coinage" and depicts 4 stars presumably representing the 4 depicted monarchs.
This C mm coin was also released jointly with Australia Post in a PNC. A C counterstamp was also struck on the mobile press at the Canberra ANDA show.
The RAM also released a 4 coin mintmark & privymark set housed similarly to the uncirculated mint year sets issued. This $14.95 (issue price) set contains four coins each with a C mintmark, S privymark, B privymark and M privymark. Later in the year another 4 coin set this time H, A, D and P privies were released for $15. This new method of issue sure takes the fun out of collecting each issue one at a time!
Silver proof issues were the master privymarks and master mintmark Canberra ANDA coin show special. See 2010 issues and mintages for the table of releases for this coin design.
As a special extra for this dollar entry we were lucky enough to get an image of the reverse die of this dollar coin as it was being installed in the gallery coining press and before it had struck it's first coin! You can see this image below.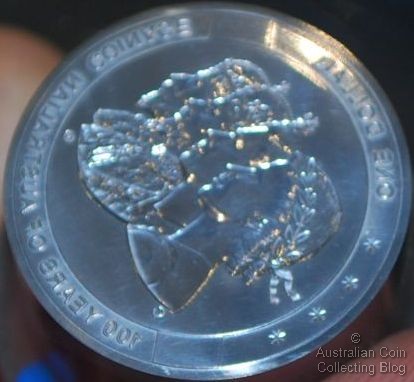 Reverse Die - Australia 2010 100 Years of Australian Coinage Dollar
Those with keen eyes will notice a small mark just to the bottom right of the portrait of Edward VII. This is a stylised incuse G in a circle which represents the sculptor of the reverse, Vladimir Gottwald.
Posted by mnemtsas at January 1, 2010 1:30 PM
Subscribe to our Newsletter