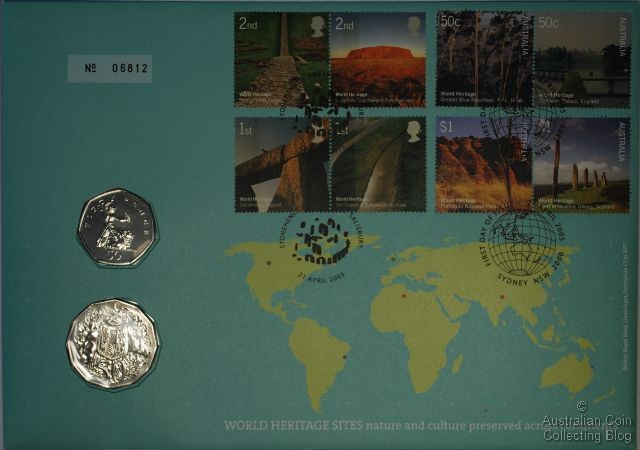 2005 World Heritage Sites PNC
In 2005 a coin and stamp cover was released promoting numerous heritage sites throughout the world. The Royal Australian Mint, Australia Post, the Royal Mint and the Royal Mail produced this PNC which was limited to 30,000 issued.
The cover includes the Australian Coat of Arms standard dodecagonal 50c coin and a British 50 pence piece. Interesting and unique to this issue is that this cover is the only way to secure one of these coins as it was not issued elsewhere in 2005. It is the lowest mintage year 50c.
The envelope houses a fold out card incorporating the 2 coins. It explains in detail our world heritage sites Dinosaur Provincial Park Canada, Ironbridge Gorge Britain, Ghadames Old Town Libya, Darjeeling Himalayan Railway India, Great Barrier Reef Australia, Salvador De Bahia Brazil and Heard and McDonald Islands in the Southern Ocean. It explains the world heritage convention setup by UNESCO in 1972 to identify, protect and preserve these special areas of the world.
Each PNC is numbered on the front and shows 8 stamps depicting photographs of some of the sites. It is postmarked in Sydney Australia and Stonehenge England on 21st April 2005.
Posted by harrisk at November 24, 2010 11:30 AM
Subscribe to our Newsletter