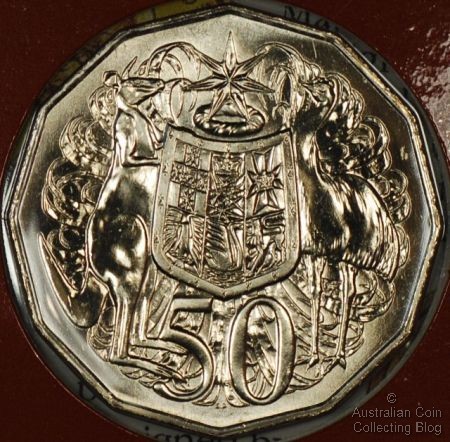 Australian Standard 50c Reverse Coat of Arms
The Australian 50c coin is dodecagonal, a 12 sided shape. It is made from 75% copper and 25% Nickel which is termed Cupro Nickel. It is 31.51m in diameter and weighs 15.55g.
When it was first issued at the change to decimal currency in 1966 it was round and was made from 80% silver but had the same design. The first time this 12 sided shape was issued was 1969.
The design of the Australian Coat of Arms was sculpted by Stuart Devlin. The Coat of Arms displays a shield consisting of six badges representing the 6 Australian states New South Wales, Victoria, Queensland, South Australia, Western Australia and Tasmania. Supporting the shield are two native Australian animals the kangaroo and emu. Above is a seven pointed star resting on a wreath, each point representing each state and one point representing the territiories. The background feature is Mitchell Grass.
The dodecagonal standard 50c coins have been issued into circulation for the following years. 1969, 1971-6, 1978-81, 1983-85, 1993, 1996-7, 1999, 2004, 2006-10. Mint set only years are 1986-7, 1989-90, 1992 and 2004. The 2005 Coat of Arms coin was only issued in the World Heritage Sites PNC with a UK 50p coin. See the Coat of Arms design in hyper-metallic colour and selectively gold plated in the 2012 special edition year sets. All other years have been commemorative design issues.
The 50c has been issued with 4 different obverse effigies of Queen Elizabeth II. From 1966-1984 the Arnold Machin obverse was used. From 1985-1998 the Raphael Maklouf design was used. 1999-present the ian-Rank Broadley portrait was used. The 4 portraits can be seen below.
In 2000, just for the Royal Visit 50c a different portrait was used by Australian designer Vladimir Gottwald. This design was a potential replacement for the Maklouf design but the Rank-Broadley design was instead chosen. Royal permission was granted for it's one time use.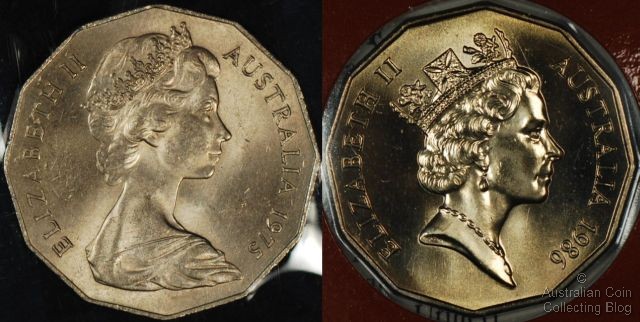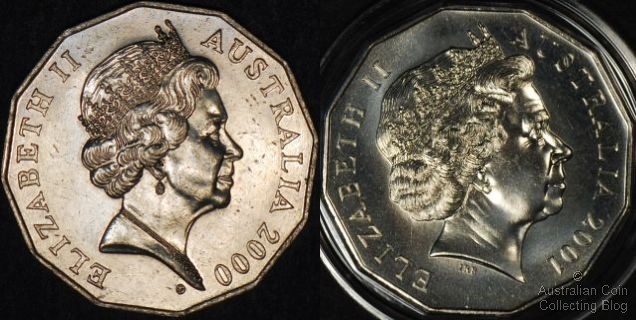 From top left Machin, Maklouf, Gottwald, Rank-Broadley
Posted by harrisk at November 20, 2010 12:52 PM
Subscribe to our Newsletter