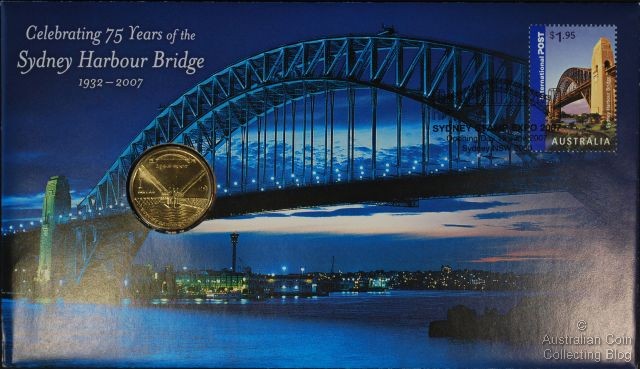 2007 Sydney Harbour Bridge PNC
2007 celebrated the 75th anniversary of the completion of the Sydney Harbour Bridge. Opened in 1932 it has become a national icon, a magnificent achievement in construction.
To celebrate this 75th Anniversary the Royal Australian Mint produced an NCLT one dollar coin which was the mintmark release for 2007. The Sydney Harbour Bridge one dollar reverse was designed by Wojciech Pietranik. The obverse is the standard Ian Rank- Broadley effigy of Queen Elizabeth II. It was released with C, S, B and M mintmarks and a no mintmark proof issue
The coin is the standard aluminium bronze dollar as seen in circulation but has been issued as NCLT -non circulating legal tender. It weighs 9g and is 25mm in diameter.
The PNC features a $1.95c stamp postmarked 15 June 2007 in Sydney. It has a card insert which features the coin with an S mintmark. The card insert depicts historic images of the bridge as the two sides joined in 1930. The PNC was issued for $14.95 by Australia Post. 250 PNC's were stamped with a silver overprint from the Sydney Stamp Expo in 2007.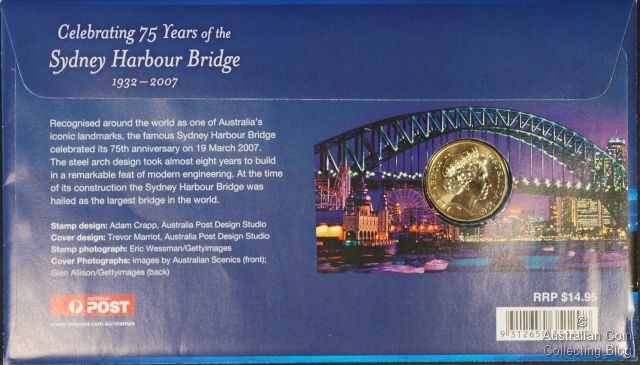 2007 Sydney Harbour Bridge PNC
Posted by harrisk at November 23, 2010 12:03 PM
Subscribe to our Newsletter