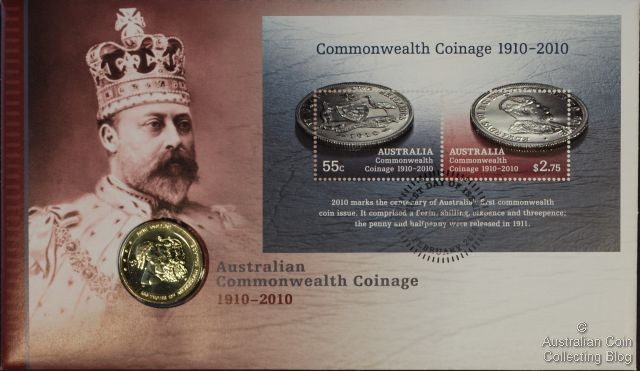 2010 100 years of Australian Commonwealth Coinage PNC
2010 celebrated 100 years of the first coins minted for the Commonwealth of Australia. A detailed article we've written previously explains our early currency. Beginning with silver threepences, sixpences, shillings and florins in 1910, copper pennies and halpennies appeared in 1911.
To celebrate 100 years of Commonwealth Coinage the Royal Australian Mint produced an NCLT one dollar coin which was the mintmark release for 2010. The Centenary of Commonwealth Coinage one dollar reverse was designed by Vladimir Gottwald. The obverse is the standard Ian Rank- Broadley effigy of Queen Elizabeth II. It was released with a variety of privymarks, C mintmark and a C counterstamp and in various silver proof issues.
The coin is the standard aluminium bronze dollar as seen in circulation but has been issued as NCLT -non circulating legal tender. It weighs 9g and is 25mm in diameter.
The PNC features a $2.75c and 55c stamps. The stamps depict a 1910 florin and have a raised affect giving them a third dimension. They even turned this coin collector into a stamp collector albeit briefly. It has a card insert which features the coin with a C mintmark. The card insert depicts the King whom appeared on the 1910 currency King Edward VII. The PNC was issued for $14.95 by Australia Post, check the 2010 Mintage Table for the final mintage of this issue.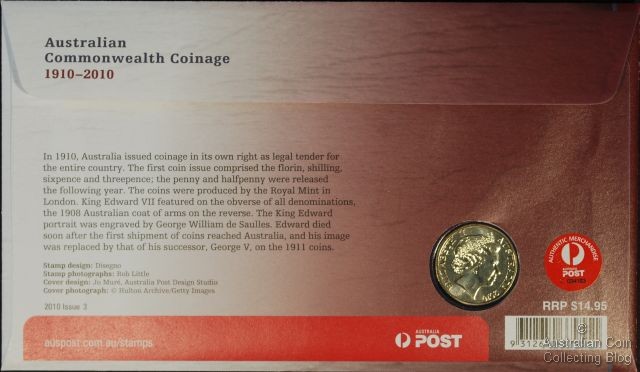 2010 100 years of Australian Commonwealth Coinage PNC
Posted by harrisk at November 23, 2010 1:08 PM
Subscribe to our Newsletter