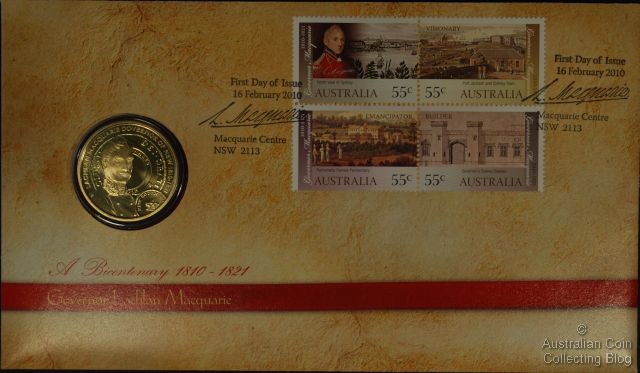 2010 Lachlan Macquarie Governor of NSW 1810-1821 PNC
2010 celebrates the bicentenary of Lachlan Macquarie becoming Governor of the NSW colony. 200 years ago Scottish born Macquarie arrived in the colony of NSW to lead and build. He was instructed to improve morals of the colonists, encourage marriage, provide education and increase agriculture.
To celebrate his governance in the new colony the Perth Mint produced an NCLT one dollar coin for exclusive inclusion in this stamp and coin cover released by Australia Post. The reverse design of the coin features Governor Macquarie's portrait, a five-shilling holey dollar and a 15 pence dump. These were Australia's first coinage made from Spanish silver dollars. This reverse was designed by Ryan Vanderwiel. The obverse is the standard Ian Rank- Broadley effigy of Queen Elizabeth II with the words 1 dollar on the obverse.
The coin is uncirculated aluminium bronze and is legal tender for one dollar. It is not the standard size for circulation, being 30.6mm (standard is 25mm) and weighs 13.8g.
The PNC features four 55c stamps and is postmarked 16th February 2010 at Macquarie Centre NSW. The limited edition PNC was issued for $19.95 by Australia Post and has a mintage of 15,000. Each PNC has it's own number and has it's own Australia Post authentic merchandise sticker.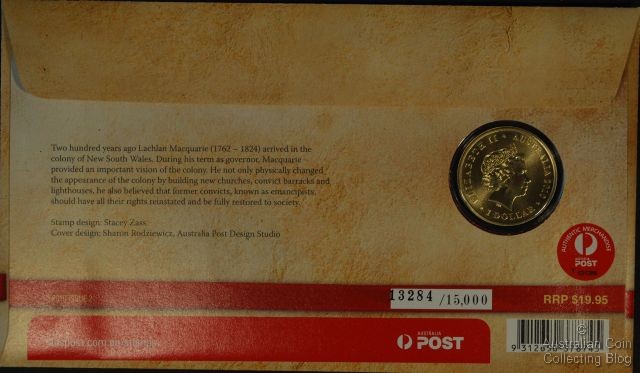 2010 Lachlan Macquarie Governor of NSW 1810-1821 PNC
Posted by harrisk at November 24, 2010 7:10 AM
Subscribe to our Newsletter