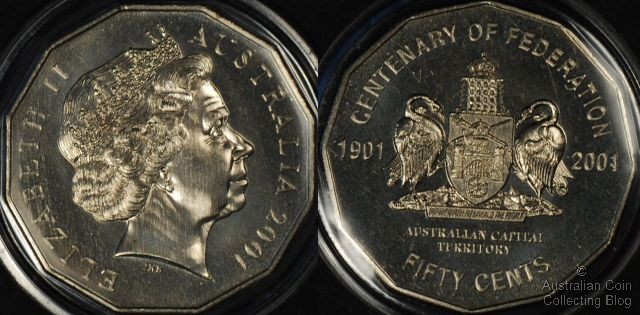 Australia 2001 Australian Capital Territory 50c -State Series
The Australian Capital Territory 50c coin shown above is a circulation 50c coin in the 2001 State Series for the ACT released by the Royal Australian Mint and can be found in your change.
The reverse design features the ACT Coat of Arms, representing one of 9 states and territories that make up Australia. This Coat of Arms features a castle representing the National Capital with the sword of justice and mace of the Australian Parliament intersecting above, inside the shield. Below the shield is the Rose of York commemorating the role the Duke of York played in the opening of Parliament on 1 May 1927. Above the shield sits a gate and crown representing the heritage from the Westminster system of government. Behind the gate is a gum tree representing the growth of the 'bush capital'. Beside the shield stands a pair of swans, one black and the other white representing Aboriginal and European people. Below, the city's motto appears in a banner "For the Queen, the Law and the People".
This 50c is the standard 31.51mm dodecagonal coin with plain edging. It is copper nickel weighing 15.55g. In 2001 there were many coins released into circulation commemorating the Centenary of Federation including a one dollar coin, 50c and 20c issues. This is just one in a series of 9 fifty cent coins depicting each state and territory of Australia that were joined together in 1901 at Australia's Federation.
The obverse of this coin is the standard Ian Rank-Broadley effigy of Queen Elizabeth II.
2,000,000 of these coins were issued into circulation.
Mintages of this coin in other sets can be seen below:
14,714 3 coin uncirculated sets
5,516 3 coin proof sets
21,145 2 coins issued for inclusion in 21,040 pre-purchased unc 20 coin sets
10,244 2 coins issued for inclusion in 13,000 pre-purchased proof 20 coin sets
Posted by harrisk at November 13, 2010 10:31 AM
Subscribe to our Newsletter