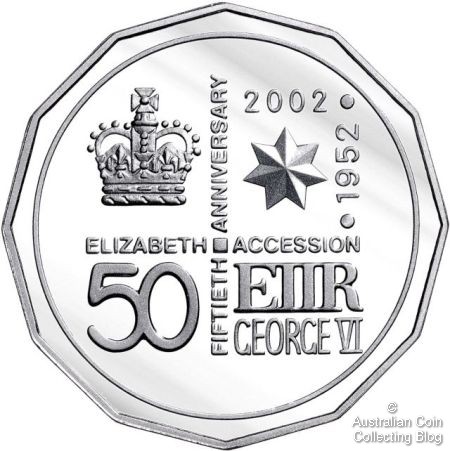 Australia 2002 Queen's Golden Jubilee 50c -image courtesy ramint.gov.au
2002 marks 50 years since King George VI died peacefully in his sleep and his twenty five year old daughter Princess Elizabeth was called to the throne. It was the morning of 6th February 1952 that the world learned this sad news and Princess Elizabeth made immediate plans to return home from a trip to Kenya. The Accession Council met on 8th February 1952 where the new Queen pledged to continue her fathers work.
The 25th anniversary or the Silver Jubilee of the Queen's Accession was celebrated with a 50c release in 1977 and again to mark this Golden Jubilee a new design was released by the Royal Australian Mint in 2002. This coin was originally intended to circulate but this decision was overruled after advice form the Treasury that there was enough 50c pieces already in circulation.
The reverse design by Peter Soobik was sculpted by Wojciech Pietranik and shows St Edward's Crown and Australia's Federation Star. It is also inscribed with Fiftieth Anniversary Elizabeth Accession 1952 2002 EIIR George VI . The obverse is the standard effigy of Queen Elizabeth II by Ian Rank-Broadley.
The uncirculated coin was issued in a joint RAM-Australia Post PNC in cupro nickel (75% copper and 25% Nickel) postmarked February 6th 2002. It weighs 15.55 grams, has a plain edge and is dodecagonal in shape 31.51mm. 32,102 of these PNC's were released for $9.95 and this issue now has one of the highest CV of all 50c issues ($325 McDonald's 17th Ed 2010).
13,500 of these coins were also issued in 99.9% silver proof weighing 18.24g. 1,500 of these coins were issued in a 2 coin set with a commemorative $100 gold coin.
A further 3,000 silver proofs were also released to the Royal Mint in London for issue in a 3 coin set with a Canadian Dollar and UK Five Pound coins in a plush purple case.
Posted by harrisk at November 22, 2010 7:11 AM
Subscribe to our Newsletter