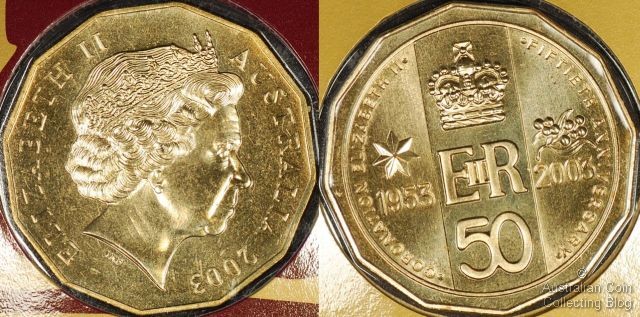 2003 Aluminium Bronze 50c
2003 marks the 50th Anniversary of the Coronation of Queen Elizabeth II. Princess Elizabeth was just 25 years old when she took the throne after the passing of her father King George VI. On June 2nd 1953 the Coronation ceremony took place crowning Elizabeth as Queen of England and the Commonwealth.
A fitting accompaniment to the 2002 50c issue commemorating 50years of Accession to the throne this coin released in 2003 celebrates 50 years of the crowning of the Queen.
The design by artist Peter Soobik was sculpted by Wojciech Pietranik and depicts St Edward's Crown, the Federation Star and sprigs of wattle. It is also inscribed with Fiftieth Anniversary Coronation Elizabeth 1953 2003 EIIR. The obverse is the standard effigy of Queen Elizabeth II by Ian Rank-Broadley.
The uncirculated coin was issued in a joint RAM-Australia Post PNC postmarked June 2nd 2003. The coin has a plain edge and is dodecagonal in shape 31.51mm. The most interesting element of this release is that the coin isn't the usual cupro nickel composition, it has been struck on an aluminium bronze planchet. Weighing a little less at 14.09g it's composition is 92% copper and 6% aluminium, the same material of the Australian one dollar coin. 65,003 of these PNC's were released at $11.95.
6,967 of these coins were also issued in 99.9% silver proof weighing 18.24g. 660 of these coins were issued in a 2 coin set with a commemorative $100 gold coin.
Posted by harrisk at November 22, 2010 8:22 AM
Subscribe to our Newsletter