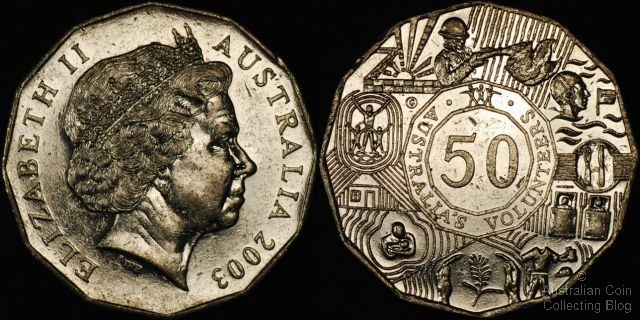 Australia 2003 Volunteers 50c -found in change
The 2003 Volunteers 50c coin shown above is a circulation 50c coin released by the Royal Australian Mint and can be found in your change.
It commemorates the hard work and commitments of Australia's Volunteers within the community. The theme was Australia's Volunteers -Making a difference. In 2003 there was 4.4 million people around the country volunteering their time and services in varying activities.
This 50c is the standard 31.51mm dodecagonal coin with plain edging. It is copper nickel weighing 15.55g. Other coins released commemorating this theme for 2003 was an aluminium bronze one dollar into circulation.
The reverse design by Vladimir Gottwald features these tireless workers in their volunteering activities. The obverse of this coin is the standard Ian Rank-Broadley effigy of Queen Elizabeth II.
13,927,000 of these coins were issued into circulation.
80,512 mint sets were produced which included this coin in uncirculated condition.
39,090 proof coins can be found in the proof year set.
37,748 uncirculated coins in the baby mint set
14,799 proof coins in the Koala baby proof sets
6,500 were issued in the fine silver year sets in 99.9% fine silver.
3,249 specimen examples can be found in the 2003 wedding sets.
Posted by harrisk at November 18, 2010 9:30 AM
Subscribe to our Newsletter