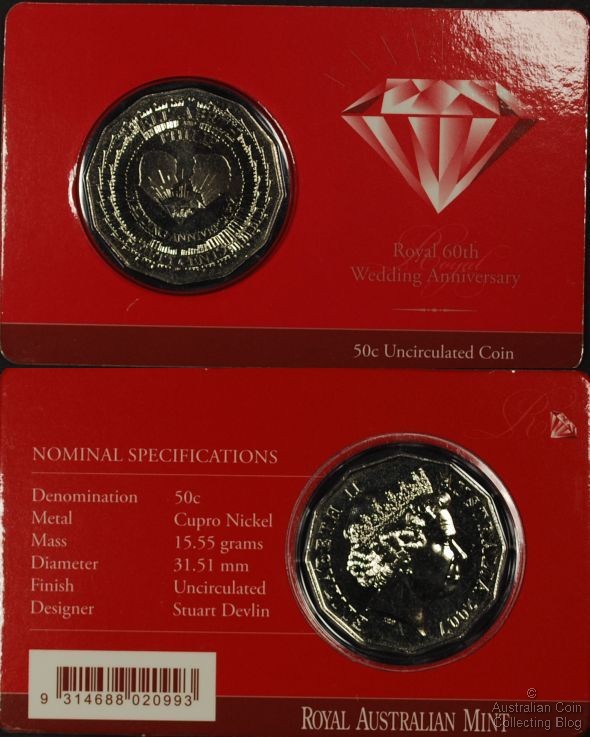 Australia 2007 Royal Wedding Anniversary 50c -NCLT
The 2007 60th Royal Wedding Anniversary 50c coin shown above was released by the Royal Australian Mint as a collector coin not intended for general circulation. This is known as NCLT or non-circulating legal tender.
It commemorates Queen Elizabeth II's 60th Wedding Anniversary to Prince Phillip, Duke of Edinburgh. Their wedding took place at Westminster Abbey on 20 November 1947.
This 50c is the standard 31.51mm dodecagonal coin with plain edging. It is copper nickel weighing 15.55g.
The reverse design by Stuart Devlin, goldsmith and jeweller to Her Majesty, Queen Elizabeth II features silhouettes of the couple above a radiant diamond signifying their 60th wedding anniversary. The wording 'Elizabeth and Philip 60th Wedding Anniversary Fifty Cents" is depicted around. The design is surrounded by sixty royal trumpets.
The obverse of this coin is the standard Ian Rank-Broadley effigy of Queen Elizabeth II.
60,030 of these uncirculated coins were issued in the card shown above.

Posted by harrisk at November 19, 2010 9:43 AM
Subscribe to our Newsletter