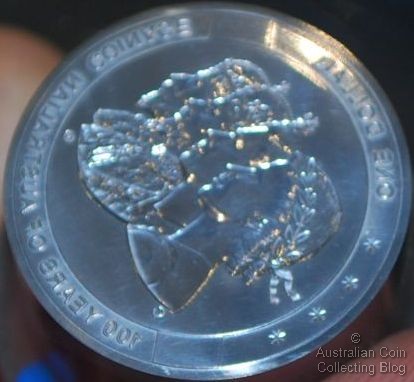 One of the Dies produced with TEER Coatings
We spoke about the latest Royal Australian Mint annual report in part one of this entry that crunched some of the numbers and gave you a simplified view of what happened at the RAM for the 2009-2010 reporting period. This entry will focus more on the production side and what changes and events happened affecting the coins themselves.
For 3 months the RAM hosted an engraving apprentice form the Royal Canadian Mint as part of their staff exchange program.
Toolroom staff built a buffer stock of approximately 3 months (at single shifts) worth of circulating coin dies with the aim of reducing operational risks in the workplace. In addition to this there have been innovative improvements to the die production process providing for a longer life of the coin dies. One of these is the use of TEER coatings on the die surface. This is a special metallic coating applied specifically to coining dies allowing longer production runs without a decline in the quality of the manufactured coins or wear seen on the dies. We're talking a 10,000% improvement using the TEER method. It is a more environmentally friendly process than previously used chromium procedures.
For the 09/10 financial year the tooling room produced a total of 3,332 dies and 127 coining collars comprising 2,355 circulating coin dies and 977 numismatic dies to meet the demands of circulating and numismatic production for the year. This is the first year since 2006 that the RAM has used it's full production potential due to the refurbishment.
The research and development team have conducted trials on the proof production press tooling, developing a prototype with improved strength and accuracy helping to centralise the dies and collars during the coin striking. This allows for better ergonomics during tool setup improving setup time enhancing accuracy and producing better quality coins.
Following research and development trials, a product called Intercept Shield has been used in the 2010 proof sets. The foam inserts contain a copper based corrosion and tarnish inhibitor reducing the need for lacquer based corrosion protection. This greatly improves OH&S working conditions for the operators.
Posted by harrisk at November 29, 2010 1:34 PM
Subscribe to our Newsletter