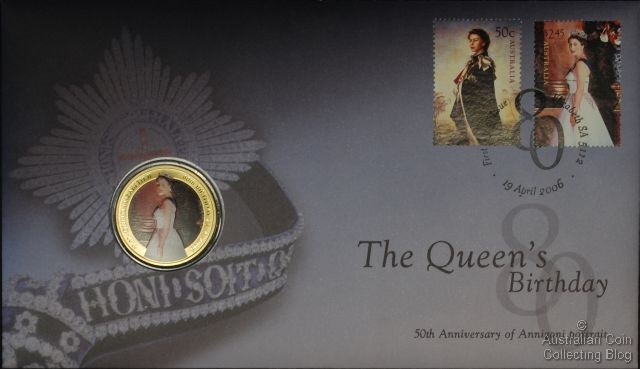 Australia 2006 The Queen's Birthday PNC 50c
Released by The Perth Mint this PNC features an unusual coin never to be found in your change. It is legal tender for 50c but has been produced as NCLT, non-circulating legal tender. It is not too dissimilar to our one dollar coin being of aluminium bronze, a little larger at 30mm diameter and 13.8g.
The reverse uses pad-printing technology and the coloured design is of the Queen wearing the Order of the Garter as she is depicted in the famous portrait taken in 1953 by British photographer Cecil Beaton. The legend reads "Queen Elizabeth II 80th Birthday 21-4-2006. The obverse features the standard Ian Rank-Broadley effigy of Queen Elizabeth II with "Australia Elizabeth II 50 cents" in the legends.
The PNC features a card insert housing the uncirculated coin, depicted on this card is a photo taken at the Royal Christening of Princess Elizabeth being held by her proud parents. This insert produced by The Perth Mint.
The envelope features a 50c and $2.45c stamp and is postmarked 19th April 2006 at Elizabeth in South Australia. The 50c stamp features the "Annigoni portrait" of which 2006 marks 50 years since the artist painted Her Majesty onto canvas. The $2.45 stamp features the photograph as on the coin design.
This PNC was released jointly by Australia Post and The Perth Mint for $14.95.
A different 50c celebrating the Queen's 80th Birthday produced by the Royal Australian Mint, also as NCLT but the standard dodecagonal shape was also issued in 2006.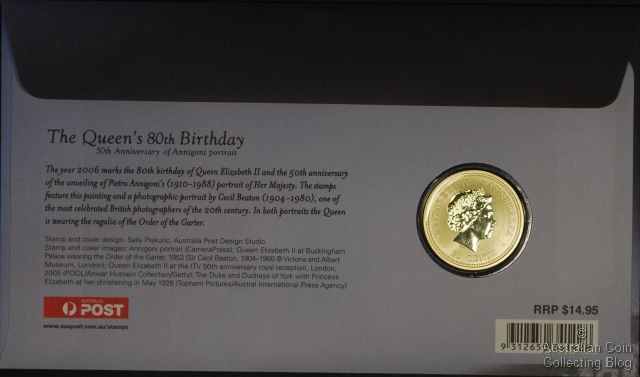 Australia 2006 The Queen's Birthday PNC 50c
Posted by harrisk at December 7, 2010 8:19 AM
Subscribe to our Newsletter