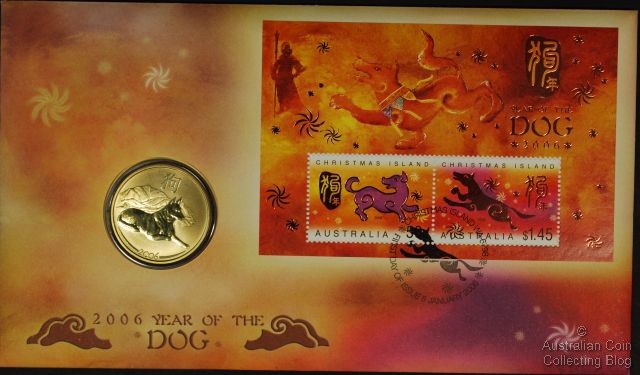 Australia 2006 Year of the Dog PNC 50c
According to the Chinese Lunar Calendar, 2006 celebrated the eleventh zodiac sign, the Dog. This symbol reflects loyalty and protection, confidence, and a stubborn streak, characteristics of those born into the Year of the Dog. People born into the Year of the Dog include Madonna, Bill Clinton, Winston Churchill and Elvis Presley.
Celebrating the Chinese New Year, Australia Post in collaboration with the Perth Mint released a PNC, or coin and stamp cover as a special collectable for this occasion. The NCLT, or non-circulating legal tender coin has a value of 50c. It could almost be mistaken for one dollar being of aluminium bronze but slightly larger at 30mm and 13.8g. It has continuous edge milling.
The reverse design is a representation of a German Shepherd dog sitting in front of mountainous terrain. Above is the chinese symbol for dog. The date, 2006, appears on the reverse. The obverse or "heads" side features the standard portrait of Queen Elizabeth II by Ian Rank-Broadley with "Elizabeth II Australia 50 cents" in the legends.
The uncirculated coin is housed in a card insert produced by The Perth Mint. The envelope by Australia Post features a window revealing the coin inside and a 50c and $1.45c stamp of Christmas Island, Australia. It is postmarked 5th January 2006 at Christmas Island, WA. This PNC was released at $11.95.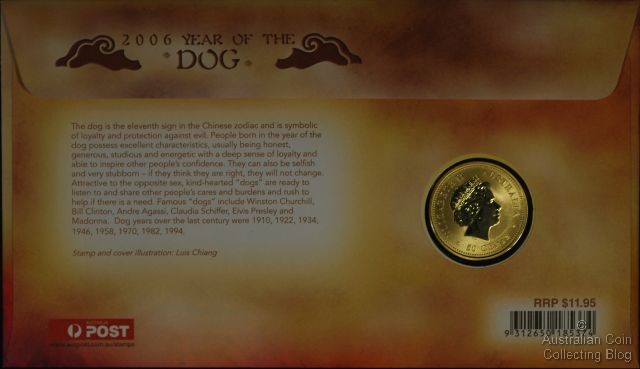 Australia 2006 Year of the Dog PNC 50c
Posted by harrisk at December 7, 2010 9:28 AM
Subscribe to our Newsletter