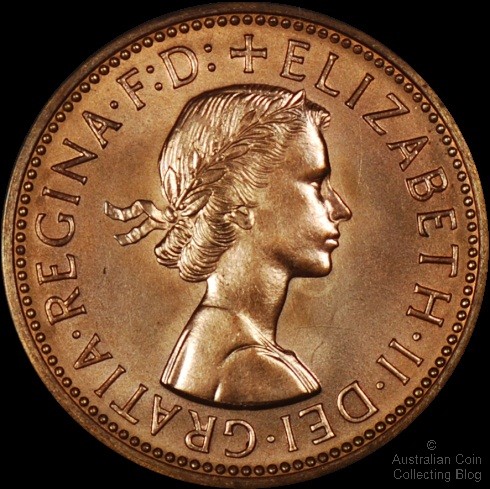 Mary Gillick Effigy of Queen Elizabeth II
The obverse of a coin is the "heads" side and traditionally features a portrait of the reigning monarch. Princess Elizabeth ascended to the throne on 6th February 1952 after the passing of her father King George VI. The new Queen Elizabeth II was depicted on Australian pre-decimal coinage from the following year, 1953 and continued until the last pre-decimal coins were minted in 1964. A new obverse featured at decimal changeover in 1966.
In 1952 seventeen artists submitted entries in plaster in a competition to design the portrait of the new Queen. Two entries were short-listed and both Cecil Thomas and Mary Gillick were chosen to have a sitting with the Queen. On the recommendation from the advisory committee the chosen winner was Mrs Mary Gillick. The uncrowned young Queen Elizabeth II design depicts her facing to the right as does each portrait used since this time. It is traditional that she faces the opposite way to her predecessor father King George VI whom always faced left.
The design features Mrs Gillick's initials MG at the very base of the portrait. The portrait is completely surrounded by an unbroken legend. "ELIZABETH II DEI GRATIA REGINA", this means "Thanks be to God Queen Elizabeth II". George VI coins showed the letters "FD" in this legend meaning "defender of the faith" which was removed for the first issues of QEII then reinstated from 1955 onwards.
Posted by harrisk at December 4, 2010 10:00 AM
Subscribe to our Newsletter