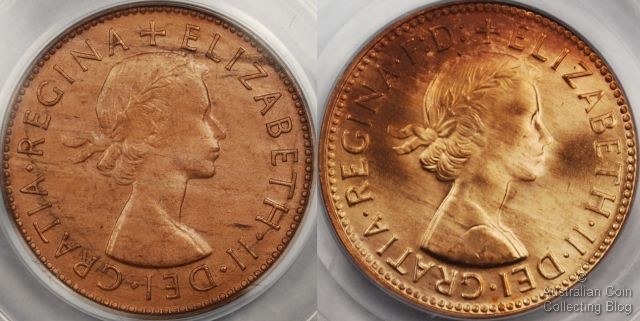 Australian 1953A (left) and 1959M Halfpennies
Whilst researching coin designer and sculptor Mary Gillick for the previous article Australian Coin Obverses: Mrs Mary Gillick I have come across some potential die differences that haven't previously been reported on with regard to Australian coinage.
In Canadian coinage after the first strikings of the Mary Gillick portrait in 1953 it was noted that the design was too high on the shoulder and there was no definition struck in the fold of Her Majesties gown. Queen Elizabeth II's shoulder looked bare which was considered inapropriate so a correction was made to the dies. Later in 1953, Thomas Shingles, the Royal Canadian Mint's Chief Engraver corrected the defect by lowering the relief and strengthening the shoulder and hair details. In doing this he created 2 varieties of the 1953 portrait, the "no shoulder fold" -sometimes also called "strapless" and "shoulder fold". The no fold variety can be seen in some 1954 and 55 Canadian cents which is very sought after.
These varieties have also been noted on New Zealand coinage particularly the 1956 threepence saw strikings with the two differing obverses. An example of a "Strapless" 1956 New Zealand penny in red Uncirculated condition sold at the recent October 2010 Downie's auction 306 for $2,300 + commission.
Other information states that the remastering of the dies was performed by Cecil Thomas, who was the runner up designer for the first effigy of Queen Elizabeth II. It can be assumed from this that possibly he remastered those dies for British coinage.
So the big question is was this done for Australian coins? If so, why hasn't there been a study done by one of the die hard varieties enthusiasts?
The images shown above show 1953A (Perth) and 1959M (Melbourne) halfpennies. The coin on the left is the no fold early variety and the 1959M halfpenny clearly shows shoulder straps. The portraits do look slightly different because of the spacing of the legends adding "FD" to the later issue. The shoulder is the highest point of the design and is thus the first place where we see strike weakness but this is not the case on the 1953A halfpenny here. Does anyone else concur with my theory?

No Fold (left) and Fold (right)
Posted by harrisk at December 5, 2010 6:06 AM
Subscribe to our Newsletter