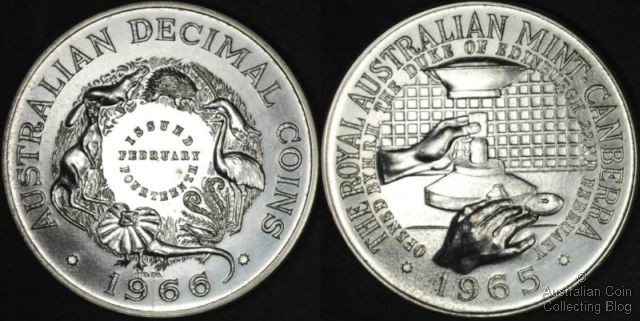 Decimal Changeover Medallion in Sterling Silver
Only at Angus and Coote Jewellers* could you buy this special commemorative medallion shown above in celebration of Australia's new decimal coins, legal tender from February 14th 1966. Released on C-day 14th February 1966 it depicts the animals used in the new currency with the obverse featuring a coin press to commemorate the opening of the Royal Australian Mint in Canberra by the Duke of Edinburgh on 22nd February 1965 in preparations for the change in currency. Available in cast bronze or sterling silver this medallion was available in a small square red leather-look/cloth/vinyl case with gilt trim (see below). The sterling silver medalllion was available at $10 and the bronze for $4.
It could also be purchased in a large square presentation case (not shown) for the cost of the medal plus $3.75 for the case. It could then be filled with the new decimal coins for face value of 88c. The long box seen below was available for $2.50 with no provision for the medal was merely a memento to house the new currrency at face value of 88c. A copy of the medal was depicted on a commemorative seal on the lid of the box.
A limited number of these 39mm medals were struck by Stokes Ltd. 6,000 bronze and 3,000 silver. The silver versions were numbered on the edge of the medal. It was also issued in 9 carat and 18 carat gold each with a mintage of 24.
Those with a Carlisle reference guide, this medal is 1966/16.
*edit: 14 February 2011 -It appears the single medal (silver and bronze) in case could also be ordered for purchase through Renniks & Co in Adelaide and Max Stern in Melbourne.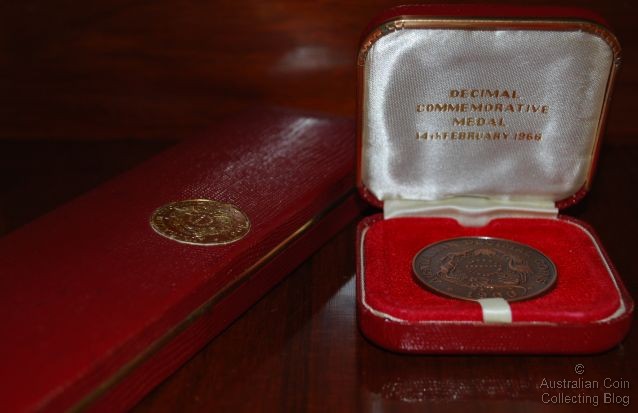 1966 Presentation Box and Medal Case with Bronze Medallion
Posted by harrisk at December 18, 2010 7:54 AM
Subscribe to our Newsletter