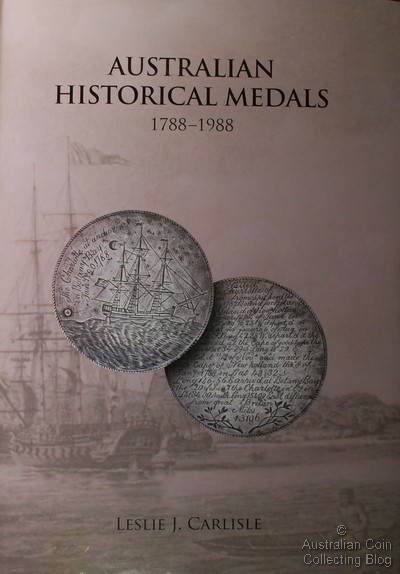 Australian Historical Medals 1788-1988 by Leslie J Carlisle
I picked up a copy of this rather hefty reference guide a year or 2 ago for my partners birthday. I must say I have probably got just as much enjoyment out of it as he has! As collecting habits morph over time we've become more interested in commemorative medals and this is the key reference source for Australian exonumia.

Published in 2008 the 700 page hardcover guidebook features Australian commemorative medals, medallions and medalets. A mammoth task that Les has pulled off to a tee with images, descriptions of the obverse and reverse, size, metal and mintages of all medal issues. Must have taken hundreds of hours of tireless work and research helped by libraries and museums to prepare the detailed data. Medals are easily referred to in date order and a section at the back references undated issues with an index as well. Our word of coin collecting just just branched into exonumia!!
This is the second book by Les, a similar volume was issued in 1983 with commemorative medal and medalet issues from 1788-1980. This updated edition adds many issues and corrects errors. The previous book listed 1500 medals and this book lists 3026. The numerous issues for the Australian bicentenary in 1988 can be found in their own book, "Australian Bicentenary Medals 1788-1988"
One chapter of interest in the book is histories of the various well known Australian medallists including Stokes, Amor and A J Parkes..
Medals are often referred to by their Carlisle numbers in sales and auction catalogues by dealers. For example the medal commemorating Decimal Changeover in the blog entry Decimal Commemorative Medal 1966 has a Carlisle reference of 1966/16 and can be found on page 349 of the guide.
Also included with the book is a supplementary price guide booklet with general pricing estimates published in 2008. This book is a credit to Les and all his hard work, it is certainly a valuable piece of our numismatic library.
Posted by harrisk at April 23, 2011 9:36 AM
Subscribe to our Newsletter