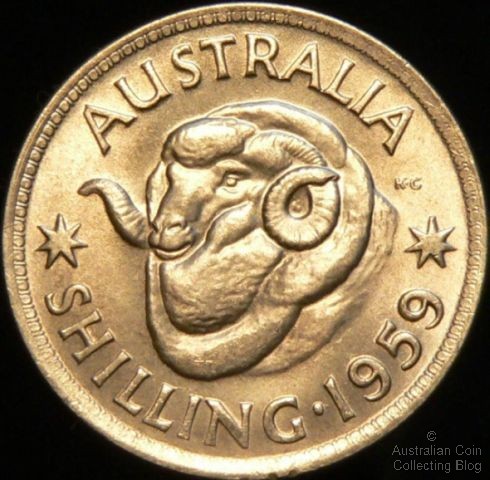 The George Kruger Gray depiction of Uardry 0.1 Grand Champion Merino Ram "The Shilling Ram"
Released on January 1st 2011 the Royal Australian Mint are issuing a third coin with the theme of celebrating Australian Wool. Following on from the recent release of the two coin sets containing the commemorative Wool $1 and Wool 20c coin, the mintmark dollar coin for 2011 will show the rams head as seen on Australian pre-decimal shillings from 1938-1963. This coin will be available in proof and uncirculated condition with varying mintmarks and privymarks that will be released throughout the year.
The Australian pre-decimal shilling depicted this rams head as designed by George Kruger Gray. It was used again on 1991 25 Years of Decimal Currency 50c which was released into circulation and designed by Horst Hahne. The same iconic image is also now being used in 2011 on these special commemorative issues celebrating the reliance of the Australian nation on wool.
The ram depicted on all of these issues is modelled from the grand champion merino at the 37th Annual Sydney Sheep Show held in 1932. 366 Merino sheep were exhibited at this show with the Grand Champion owned and bred by Charles Mills of the Uardry Merino Stud in Hay (the Riverina District in NSW). The prize ram was Uardry 0.1 and his characteristics and features were considered so correct that he immortalised on circulation currency. The Uardry Merino Stud still breeds champions today.
Posted by harrisk at December 20, 2010 7:20 PM
Subscribe to our Newsletter