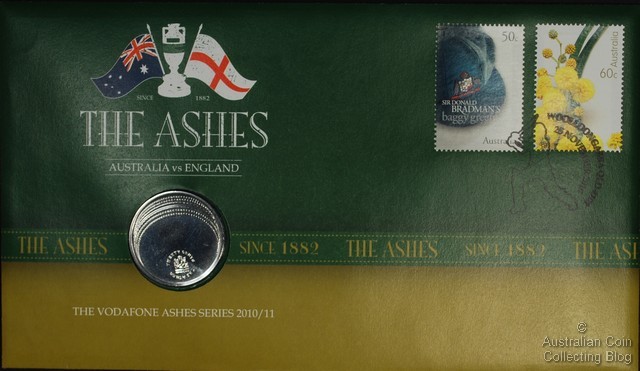 2011 The Ashes 20c PNC
The Ashes test cricket series for 2010/11 was commemorated with a special 20c coin release into the collector market by the Royal Australian Mint. Designed by Wojciech Pietranik the coin resembles the six-stitcher cricket ball and is a unique design showing off the talents of the RAM's in-house designer and engraver.
The Australian legal tender 20c coin is featured in a PNC released by Australia Post. Endorsed as a genuine product by Cricket Australia it's an impressive collectable of the Vodafone Ashes Series of 2010/11, Australia vs. England.
The PNC features a 50c stamp of Sir Donald Bradman's baggy green cap and a 60c stamp of the wattle flower. It is postmarked at Woolloongabba Qld on 25th November 2010 where the first match of this series was held. Inside the commemorative envelope is a descriptive card which holds and protects the coin.
Issue price is $19.95 and is limited to 20,000 stamp and coin covers.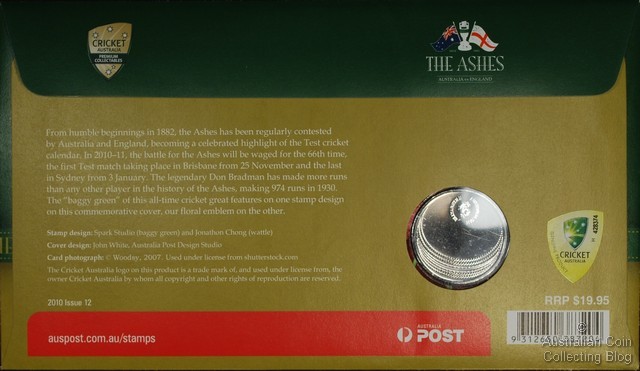 2011 The Ashes 20c PNC
Posted by harrisk at January 5, 2011 12:12 PM
Subscribe to our Newsletter