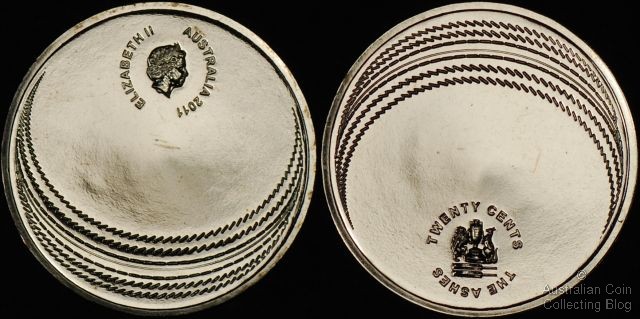 Australian 2011 20c - The Ashes
Released on 6th November 2010 this 2011 dated commemorative 20c is a stunning coin by the Royal Australian Mint. An NCLT release meaning this coin won't be seen in circulation it commemorates the 2010/11 The Ashes test series cricket. The test will be played on Australian shores in Brisbane 25-29 November and is an integral part of the Australian summer cricket calendar. England currently hold the Ashes Urn so it is hoped victory will again be claimed on Australian soil as it was in the 06/07 test.
Victory in the 06/07 test saw coin releases by the RAM also. A 2007 The Ashes one dollar and a limited PNC release which has proved extremely popular.
The design by RAM coin engraver Wojciech Pietranik is simple yet effective depicting the cricket ball. The coin is the ball! It brings a new third dimension to coin design and shows off Wojciech's skill in sculpture. The obverse still depicts the standard Ian Rank Broadley effigy of Queen Elizabeth II in miniature as if it were the branding on the ball.
The coin is the standard 20c size 28.52mm in diameter weighing 11.3g made from Cupro Nickel (75% copper and 25% Nickel). It is released in an informative card for $6.95.
It has also been released in a commemorative PNC for the 2010/11 Ashes Tour by Australia Post for $19.95 with a limited edition of 20,000 covers.
Posted by harrisk at November 2, 2010 9:01 AM
Subscribe to our Newsletter