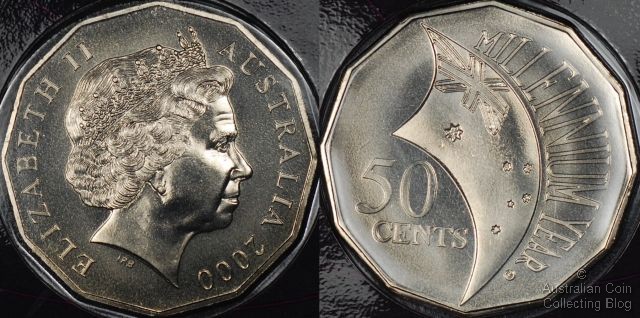 Australia 2000 Millennium 50c
In the year 2000 a commemorative 50c was released into circulation celebrating the turn of the century, the transition from the second to the third millennium. Seeing in the beginning of the new millennium was surely a significant event, looking back through our achievements in the last centuries and looking forward to what we have ahead of us. Released by the Royal Australian Mint this fifty cent can be found in circulation, in the 2000 mint set and colourised (pad-printing technology) in the 2000 proof set.
Designed by Vladimir Gottwald this commemorative coin features a stylised Australian Flag with "Millennium year 50 cents" and Gottwalds designing initials on the reverse. There were two types of reverse dies used to strike this issue, the rarer type being the "incused flag" variety where the union jack is incuse rather than raised. The obverse is the standard Ian Rank-Broadley effigy of Queen Elizabeth II.
It is the standard 31.51mm dodecagonal twelve sided design with a plain edge. It is made of cupro-nickel 75% copper and 15% nickel and weighs 15.55g.
64,904 proof sets were issued (and 100 VIP sets) which included the coloured coin. One thing to note if you see an error millennium 50c coin for sale that it is very easy to manipulate the surface of the (proof) pad-printed coloured coin to make it appear that a mint error has occurred. Read more about this in RAM Coloured Coin Issues -buyer beware and about what we did to a 2006 coloured ocean series Bottlenose dolphin one dollar in RAM Coloured Coin Issues -buyer beware: part 2.
106,394 mint sets were also issued containing uncirculated coins and 16,630,000 coins were released into circulation.

Posted by harrisk at February 14, 2011 6:44 AM
Subscribe to our Newsletter