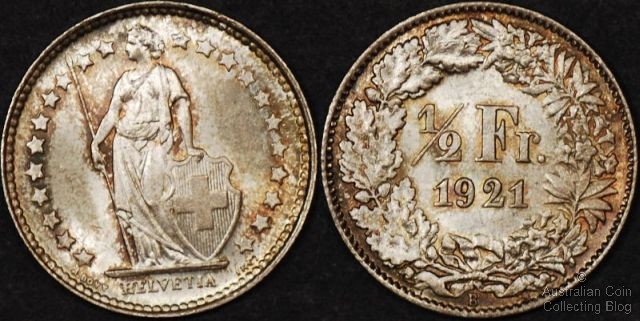 Switzerland 1921B Half Franc
We've just created a Swiss Silver Coin Bullion Calculator which is free to use and uses the latest silver prices to determine the silver bullion value of Swiss coins. Switzerland had a remarkably stable coinage system with all denominations from the half franc to the 5 franc coin containing silver up until 1967 (although the 5 franc was minted one more time with silver content in 1969). Like many world mints, the Swiss mint in Bern started making collector coins in 1990 when it started issuing crown sized 20 franc coins in 83.5% silver which contained 0.5369oz of silver.
Remember that the calculator only tells you the bullion value of coins and that the collector value of a coin can exceed that of the pure bullion value.
Posted by mnemtsas at February 16, 2011 8:03 AM
Subscribe to our Newsletter