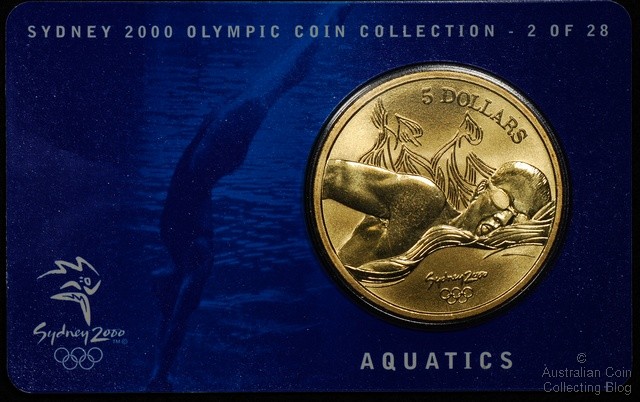 Aquatics $5 Coin
The above coin was issued in May 2000 in the 7th and last release of coins in a set of 28 in commemoration of the Sydney 2000 Olympic Games. These 28 five dollar coins were part of the Sydney 2000 Olympic Coin Program released jointly between the Royal Australian Mint and the Perth Mints.
The Aquatics coin features the Ian Rank-Broadley portrait of HM Queen Elizabeth II and is Australian legal tender for $5. Swimming events have been contested at the summer Olympic Games since the very first in 1896 in Athens. It began in 1896 with the 100m freestyle race for gold and now includes diving, synchronised swimming and water polo.
Issued for $8.95 it is not certain exactly how many of these coins were struck however it is likely approximately 100,000 of the Aquatics coin were minted. Struck in an alloy of copper, tin, aluminium and bronze more information about this coin and the other 27 in the series can be found in the master article Sydney 2000 Olympic Games $5 Coin Collection.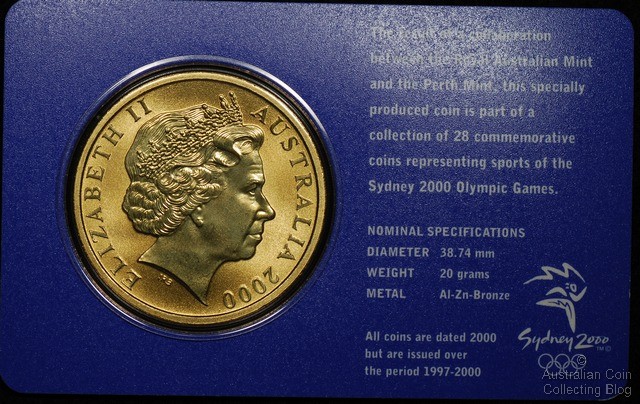 Aquatics $5 Coin
Posted by harrisk at March 23, 2011 1:24 PM
Subscribe to our Newsletter