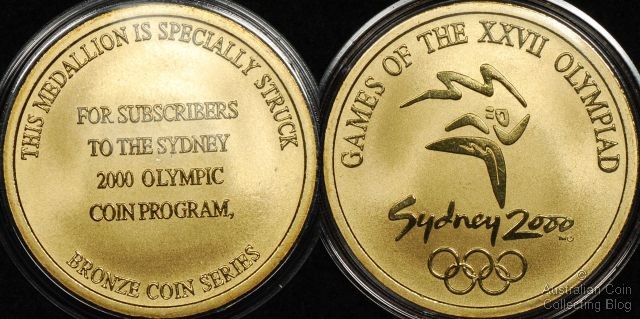 Bonus Subscribers Medal for those who purchased the album to house the entire series of 28 coins
There was so much excitement in the lead-up to the Olympic Games in Sydney in the year 2000. Releases of pins, phonecards, coins and medallions were plentiful and were being snapped by the public as colourful memento's of their experiences as Australians' with an Olympic Games being held in their country, the first since Melbourne in 1956. Jumping onto the bandwagon releasing a plethora of collectables was the two Australian Mint's the Perth Mint and the Royal Australian Mint.
One release in collaboration with both Mints in the Official Sydney 2000 Olympic Coin Collection was 28 individual $5 coins minted over a period of 3 years in the lead-up to the event. Collectors purchased these coins individually and housed them in a special folder to complete the collection.
Each of the 28 coins was struck by the Royal Australian Mint with a legal tender value of five dollars. Interestingly some of these coins were issued with the Raphael Maklouf portrait of Queen Elizabeth II and some the Ian Rank-Broadley design but are all dated 2000. Each individual reverse depicts a sport of the Olympic Games and was co-designed by Philip Holiday, Wojciech Pietranik and Vladimir Gottwald.
This bronze coin series also includes a special subscribers medal. Each coin and medal weighs 20 grams and is 38.74mm in diameter and all feature continuous edge milling. Each is composed of Aluminium, Zinc and Bronze.
Each of the 28 coins are listed below and link to an individual article:
Athletics
Aquatics
Modern Pentathlon
Canoe/Kayak
Hockey
Basketball
Judo
Triathlon
Archery
Rowing
Boxing
Handball
Gymnastics
Badminton
Fencing
Softball
Sailing
Volleyball
Taekwondo
Football
Weightlifting
Equestrian
Table Tennis
Wrestling
Cycling
Shooting
Baseball
Tennis
note: all entries aren't completed yet but will be in the coming months.

Posted by harrisk at March 23, 2011 10:56 AM
Subscribe to our Newsletter