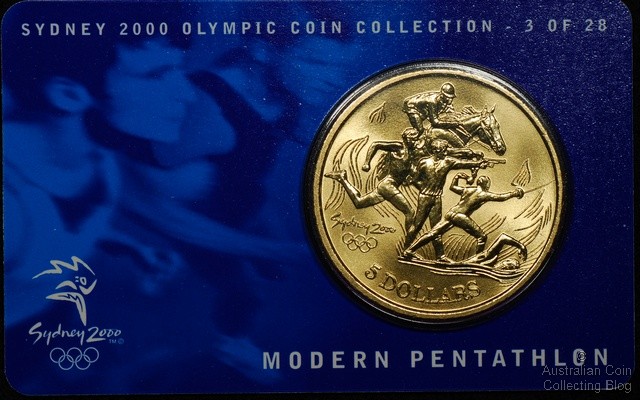 Modern Pentathlon $5 Coin
Twenty eight of the above coins were released over a period of 3 years in the lead-up to the Games each depicting a sport in the 2000 Sydney Olympics. This Modern Pentathlon coin is the 3rd in the series but was issued in the 7th and final release in May 2000. It is part of the Sydney 2000 Olympic Coin Program which was released jointly between the Royal Australian Mint and the Perth Mints.
The Modern Pentathlon is depicted on the reverse which was introduced to the Games in 1912 by the founder of the Modern Olympic Movement Baron Pierre de Coubertin. It features swimming, running, fencing, pistol shooting and horse riding.
Approximately 100,000 of these coins were issued for $8.95 each, this coin with the Ian Rank-Broadley obverse of Queen Elizabeth II. It is legal tender for $5 and is struck in an alloy of copper, tin, aluminium and zinc. More information about this coin and the other 27 in the series can be found in the master article Sydney 2000 Olympic Games $5 Coin Collection.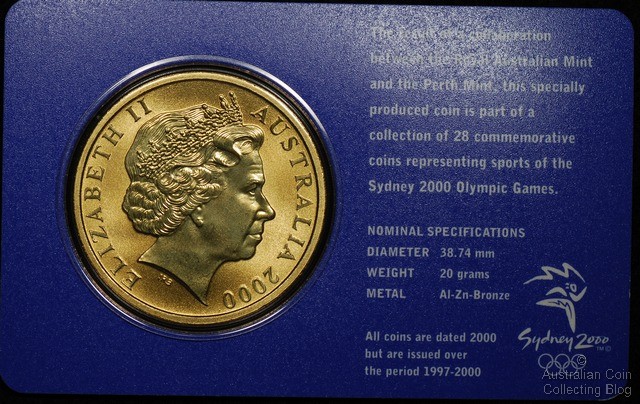 Modern Pentathlon $5 Coin
Posted by harrisk at March 25, 2011 11:56 AM
Subscribe to our Newsletter