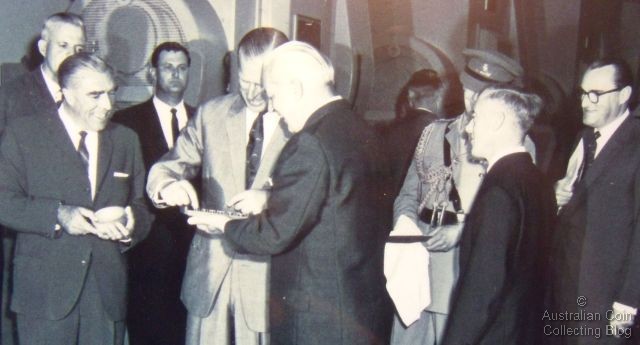 Presentation to HRH The Duke of Edinburgh at the Mint opening
The Melbourne Mint which was a branch of the Royal Mint in London produced many of the test pieces considered for decimal currency. They were struggling with pre-decimal coin production and didn't have the capacity to create the 1,000 million coins needed (for just the first year) if the country moved to decimalisation.
In 1958 cabinet agreed to establish a new Mint in Canberra to facilitate the change to decimal currency. Senior staff from the Melbourne Mint played a key role in developing the new currency and planning the new mint. In 1962 building commenced at the Deakin site at an estimated cost of £1.8 million. Another site considered was one at Camp Hill right next to the now (New) Parliament House.
The Royal Australian Mint in Deakin, ACT was first opened on February 22nd 1965 by His Royal Highness, The Prince Phillip (the Queen's husband), the Duke of Edinburgh. It was the first Australian Mint that was not a branch of the British Royal Mint. The Sydney, Melbourne and Perth Mints were all branches of the Royal Mint and were governed by the British. It was time for Australia to find it's own feet.
The new Mint allowed all facets of production to be done under the one roof, where previously this had not been possible. From pencil sketches of designs to creating master and production dies then to alloying pure metals into ingots, rolling these ingots into strips, cutting blanks from these strips and rolling the end coin product into paper to be transported to banks and retailers. The new Royal Australian Mint was at the height of techonological advancement at the time of it's opening, just prior to the decimal changeover in 1966.
Above shows the official Mint opening by HRH with the presentation of (a duplicate of) the below coin set and the wooden bowl used to catch the first coins struck at the new Mint. This photograph, coin set and bowl are on display at the First Floor Museum at the Royal Australian Mint in Denison Street, Deakin ACT.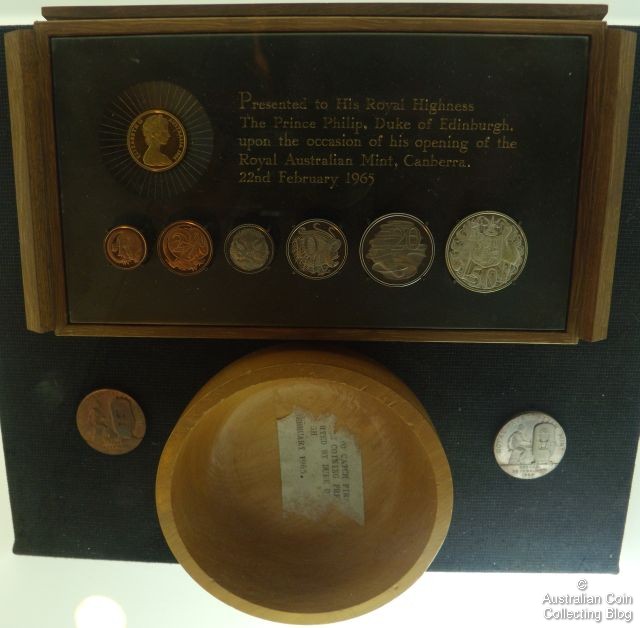 Top: Duplicate of Coin Set presented to HRH The Duke of Edinburgh in 1965 Bottom: Actual bowl used to collect the first coins produced
Posted by harrisk at March 17, 2011 12:19 PM
Subscribe to our Newsletter