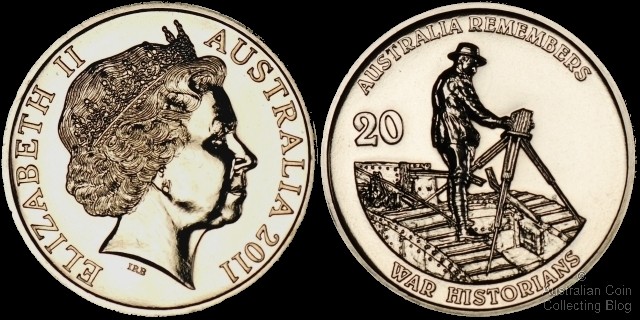 2011 War Historians 20c
The Australia Remembers series of NCLT 20c continues with a third release in March 2011. Previous issues have been the 2010 Lost Soldiers of Fromelles 20c, PNC and 2009 Service Nurses 20c. This series recognises and celebrates those people who made history beyond the battlefields.
The 2011 coin remembers War Historians who shaped our perceptions of conflicts since the Boer War. People such as Australia's most famous war correspondent Charles Edwin Woodrow (CEW) Bean who was the first official correspondent of the First World War and founder of the Australian War Memorial, and Damien Parer, one of Australia's most famous combat cameramen who was killed by Japanese machine guns in 1944 whilst filming marines advancing under fire.
The image depicted on the reverse of the coin sculpted by the Royal Australian Mints' Wojciech Pietranik was designed using an image from the Australian War Memorial photographic archives. Of course some changes had to be made for the image to transform to a coin design and the official photographer, Captain George Hubert Wilkins, MC was removed for the coin. Staff Sergeant William Joyce is seen standing with tripod and camera on a British Mark V tank as the pair record the advance of Australian troops through the Hindenburg Line. Of course this coin design is meant to be a representation of all war historians and celebrate those who brought the front line back to those at home.
The obverse of the coin depicts the standard Ian Rank-Broadley image of HM Queen Elizabeth II. This 20c is released as non-circulating legal tender (NCLT) and is housed in a capsule in an informative card. The card design features red Flanders Poppies, an important symbol of remembrance and another image from the War Memorial archives of war correspondent Mr L. O'Dwyer interviewing members of the 2/8 infantry battalion in New Guinea, 1945.
Issued for $6.95 this uncirculated 11.3g 28.52mm cupro nickel 20c will not be found in your change.
Posted by harrisk at March 16, 2011 9:50 AM
Subscribe to our Newsletter