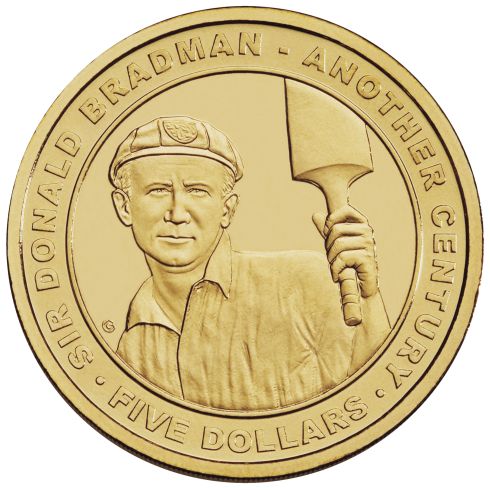 2008 Centenary of Bradman's Birth (image courtesy ramint.gov.au)
2008 would have marked Sir Donald Bradman's 100th birthday. The cricketing great has been depicted on many Australian coins including a number of $5 coins and a circulation 20c, find these in the Sir Donald Bradman Coins master list.
The coin shown above was issued in 2008 and the coin launched at an event at Manuka Oval in Canberra where Bradman played his final match in 1963. CEO of the Royal Australian Mint at the time Janine Murphy said
"We are proud to release this collector coin which celebrates what would have been Sir Donald Bradman's greatest century. He is revered in sporting history, locally and internationally, as the greatest batsman of all time. Bradman's performance on and off the cricket field is a true inspiration to all sportsman. He played an important role in the development of the game and shaping this great nation."
The uncirculated aluminium bronze coin depicts The Don giving his customary salute after scoring his cricketing century and was crafted by the RAM's Vladimir Gottwald (note the G in a circle above Bradman's right shoulder). It was issued for $18.75 in the collector card seen below and struck by the Royal Australian Mint in partnership with the Bradman foundation. It measures 38.74mm in diameter, has a reeded edge and was struck purely for the collector market as NCLT. The obverse is the standard Ian Rank-Broadley portrait of Queen Elizabeth II. This coin has a mintage of 21,356.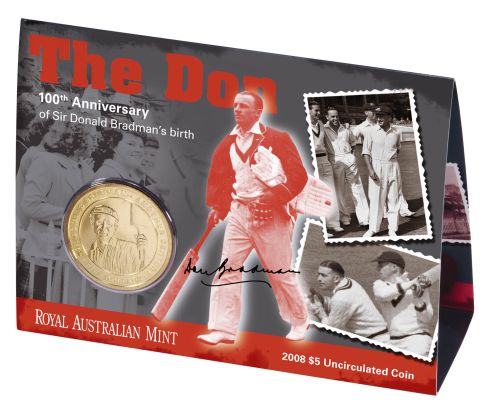 2008 Sir Donald Bradman Another Century (image courtesy ramint.gov.au)
Posted by harrisk at April 8, 2011 12:03 PM
Subscribe to our Newsletter