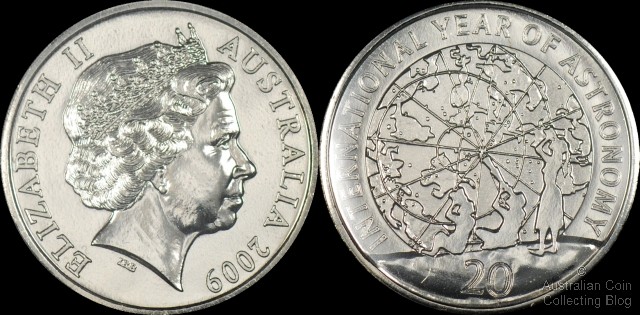 Astronomy 20c -NCLT
The 2009 International Year of Astronomy twenty cents was issued by the Royal Australian Mint as a collector coin. The United Nations proclaimed 2009 International Year of Astronomy and this was the theme for the mint and proof sets issued by the RAM in that year. Special 2 coin sets were also issued to include this coin and the commemorative dollar coin released marking 400 years since Galileo's first astronomical observation through a telescope. The dollar cementing Australia's link with the depiction of the Parkes radio telescope.
This commemorative 20c features a reverse designed by Caitlin Goodall -her initials seen to the left of the smallest star-gazer. It depicts 3 star-gazers observing the night sky linking the vision of the IYA which is community involvement in "the universe, yours to discover" theme.
This uncirculated 20c is only found in the 2009 6 coin mint set and in proof in the 2009 2 coin proof set. It wasn't released into circulation which is termed NCLT or non-circulating legal tender. Made from cupro-nickel (75% copper and 25% nickel) this 20c is the standard 11.3g 28.52mm size with continuous edge milling. The obverse is the standard Ian Rank-Broadley effigy of the Queen.
For more information on other circulation and commemorative 20c releases see our entry The Australian 20c.
Posted by harrisk at May 15, 2011 1:24 PM
Subscribe to our Newsletter