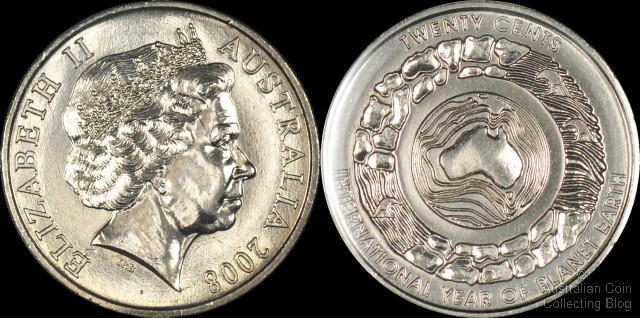 2008 International Year of Planet Earth 20c
Designed by Royal Australian Mint sculptor Vladimir Gottwald the 2008 International Year of Planet Earth 20c was issued in the 6 coin mint set and in proof in the 2 coin proof set of 2008. It was also minted in (13.36g of) silver in the fine silver year set. These sets are the only way to obtain this non-circulating 20c coin design. It does feature all the same specifications as the standard platypus design made from cupro-nickel, weighing 11.3g and is 28.52mm in diameter with a milled edge.
The design theme incorporates "Earth sciences for society" proclaimed by the United Nations as 2008 was named International Year of Planet Earth. It's aim was to highlight the need for responsible use of the planet to ensure a safer and prosperous world. The Australian coin series which also featured a $1 commemorative coin design was issued to raise awareness of environmental and geological issues such as climate change affecting Australia and promote sustainability. This design in collaboration with Geosciences Australia is by Gottwald and features elements of nature around a map of Australia. It also shows Gottwalds initial "G" noting that he was the coin designer. The obverse features the standard portrait of Queen Elizabeth II by Ian Rank-Broadley.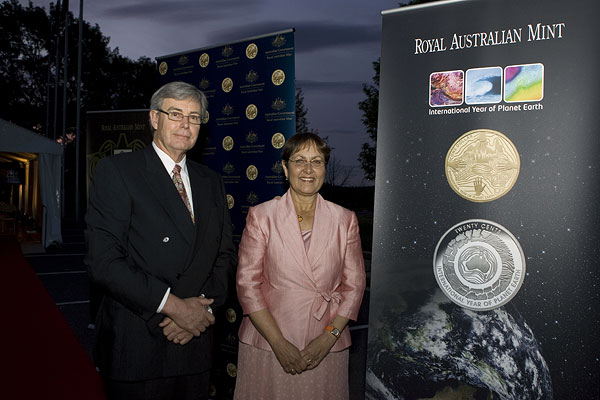 RAM launch of 2008 products Dr Ian Lambert of Geoscience Australia and former RAM CEO Ms Janine Murphy -image courtesy www.ramint.gov.au
Posted by harrisk at May 17, 2011 6:57 AM
Subscribe to our Newsletter