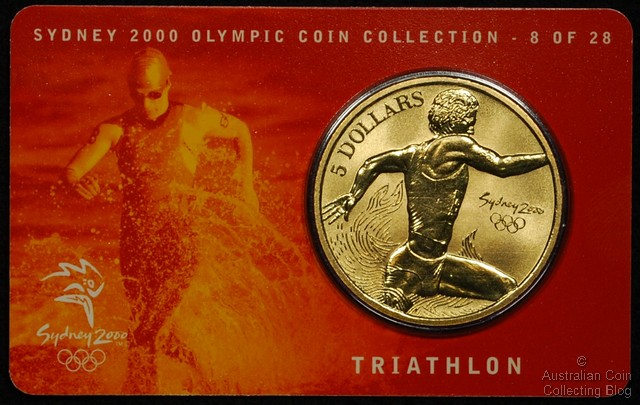 Triathlon $5 Coin
Released in a joint venture between the Royal Australian Mint and the Perth Mint the Triathlon $5 coin is one of 28 coins released to celebrate the 2000 Olympic Games held in Sydney, Australia as part of the Sydney 2000 Olympic Coin Program. Each coin represents one of the 28 different sports played in the 2000 Olympics.
This coin featuring the Triathlon was released as number 8 of 28. This series of coins were issued in several releases in the 3 years prior to the Games.
Sydney 2000 was the very first year triathlon competition was held at an Olympic Games consisting of walking, cycling and running events.
Approximately 100,000 of these Triathlon themed non-circulating legal tender (or NCLT) coins were released into the collector market at $8.95 each. This coin features the Ian Rank-Broadley effigy of Queen Elizabeth II. More information about this coin and the other 27 in the series can be found in the master article Sydney 2000 Olympic Games $5 Coin Collection. This coin weighs 20 grams and is 38.74mm in diameter features continuous edge milling. It is composed of Aluminium, Zinc and Bronze.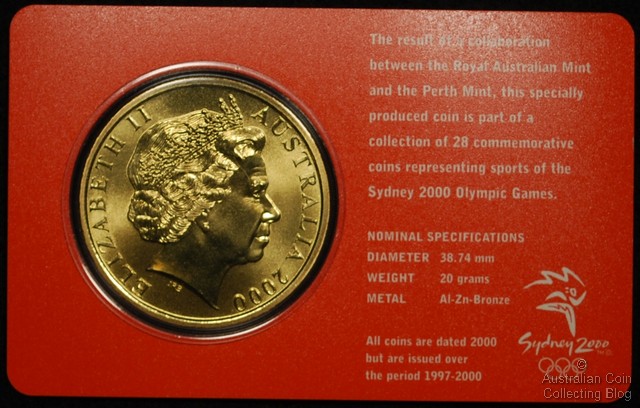 Triathlon $5 Coin
Posted by harrisk at May 28, 2011 2:56 PM
Subscribe to our Newsletter